That "Whitman's Sampler" you got for Valentine's Day? Yeah, it needs wine.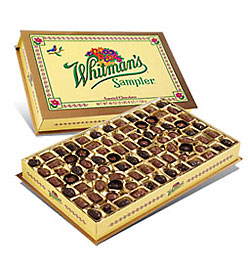 Oh, the Whitman's Sampler. The nostalgia hits just thinking about it. The excitement of not knowing what's inside each one was just too much to bear. Suddenly, I'm 8 years old, scouring the sampler trying to decide which one to pick. From experience, my 8-year old brain knows that the wrong choice could end in bitter disappointment. Go with the safe choice? The solid milk chocolate with the dude imprinted on it? What is that funny brown substance? What is THAT, toothpaste? And MARSHMALLOW? Um, no.
Its always nice to have someone give you something on Valentine's Day, that much we know. If you find yourself without a better half (or at least a marginal half) this year, maybe your Mom or your Grandma slid you a Whitman's sampler just for funsies. Bless their hearts, really. But you gotta take it up a notch. What to do?
Put on your big girl panties and add wine! You've instantly made a fun game out of this vastly commercial "holiday." Resist the urge to be a hater and just have some fun.
Lets go over a few of the main Whitman's chocolates fillings and find some booze to wash 'em down. Shall we?
1.) The Dark Chocolate with straight up Caramel. This one is simplicity at its best. While it might not be the most exciting combination on earth, at the very least it won't disappoint. Caramel is a really common nuance to find in wine, as any use of oak will often result in some pleasant caramelly notes. What to drink? If you're wanting a dry red, you'll need something with a bit of tannin and sturdiness. A Cabernet with a hint of new or seasoned oak should make a nice mate.
2.) Milk Chocolate with Milk Chocolate Fluff. This is sort of a middle-of-the-road, "safe" bet; it's hard to not like this chocolate, yet nothing about it really stands out. But that's okay. Coax it out of its average standing with a little wine. Go big and try a demi-sec Sparkler! The term demi-sec means that the residual sugar content is a bit higher than your average dry Prosecco; but don't be deterred. The really delicious ones are well-balanced with enough acid, and will leave your tastebuds uplifted. Usually around Valentine's Day, retailers stock up on Champagne and Sparkling wine, so finding one should be relatively easy. (There may even be a perfect unusual Sparkler in your February Wine Awesomeness box…)
3.) The Espresso Nougat. This one is interesting- I'd stick with one of my personal favorite wine and chocolate combinations: Merlot. You might not know it, but a good Merlot can have some really beautiful coffee and mocha notes to it. You want one with a little backbone- maybe even a Merlot-based Bordeaux blend! That could be fun. I also love Italian Merlot, but you might end up on a wild goose chase for that one, and out quite a few bucks.
4.) The Strawberry… uhh… Cream? Oh boy! This is the one that might cause you some instant "biter's remorse!" What IS that stuff? If you're going to commit to finishing this chocolate, you definitely need some wine. Honestly, this one is a toss-up; Pinot Noir and chocolate are not the best bedfellows, but in this scenario it *might* work. The saccharine-strawberry taste, if combated, could be toned down by the wine. Pinot Noir in general should have some pleasant strawberry notes to pick up. Alternately? Swig a bit of that demi-sec you have left, and then forget it like an old boyfriend.
5.) Dark Chocolate with Coconut. This one is almost surely a polarizing experience. You either like coconut or you don't. This would be perfect for… Madiera! Madeira and coconut are MAGICAL. Nutty, toasty, almondy… its the most clutch combination you'll encounter. Keep in mind that once you buy a bottle of Madiera and open it, it will keep for a long time. So no need to stress about finishing it or wasting it- its a long-term member of your kitchen and is incredibly versatile.