"I'm not gonna say it was like 'Wolf of Wall Street,' it wasn't that crazy, but it was that dot com era in the 90's. There was a lot of money thrown around. This company would send us to Paris, we'd stay in crazy hotels and drink all this champagne…"
By most accounts, Leah Jorgensen was living "the life" working at a thinktank in D.C. and riding the wave of the internet boom. But in her opinion things weren't quite so rosy.
"I felt guilty that I wasn't psyched to be there" Leah admits. "I was bored sitting at a cubicle and was literally banging my head on my desk. So I left this high paying job and went to manage a little wine shop in Dupont Circle. I think I was 24 at the time. That just changed the course of my life."
It didn't take long for Leah to catch the bug. Her corporate career was whittled away in no time. Within four years of leaving her lavish place of employment she found herself moving to Oregon- prime American wine country. Just six years later she released her first vintage under her very own brand, Leah Jørgensen Cellars.
From the start, Leah knew that her wines wouldn't be run-of-the-mill northwestern Pinots. Leah was fixated on reimagining wines from one of her favorite areas: the Loire Valley. But her love for the famed French region wasn't the only thing that inspired her. As always, the land played a big role too.
"Our soils are ancient soils with shellfish, limestone and clay loam. That's what you find in the Loire Valley. They plant more varieties of grape there than anywhere else in France. It's the same reason we can get by planting these grapes in Southern Oregon."
With the soil's blessing, Leah brought the Loire to the west coast, and then some.
For her very first vintage, Leah produced a still, white Cabernet Franc, making her the first ever to commercially produce a wine of this kind. Cab Franc grapes are used to make reds, sparkling and rosé, but hadn't been used to make still whites until Leah decided to make it so. Her first wine was a first in more ways than one.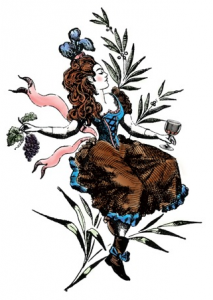 "I had the opportunity to pick up about 750 pounds of Cab Franc grapes and I wanted to go out the gate with something that would turn heads." She has told the story before, but seems far from tired of it.
"They make sparkling wine with Cab Franc." She points out. "Most of the bubbly rosés are made with Cab Franc. So I was like, why not? It'll be an experiment. The worst thing that happens is that it's not great and that's fine."
But the worst didn't happen. In fact, Leah's Blanc de Cabernet Franc sold out super quickly, went on to become her signature wine and has been snatched up by restaurants in Portland and distributors in California and Chicago.
As the conversation comes to a close and Leah reflects on 15 years in the industry, she remembers her first few days as a wine shop manager.
"I never thought about the wine industry as a career." She laughs.
"I was like 'wait, there are jobs?' Of course there are jobs. I was never exposed to them so I sort of scratched my head and said, hell yeah, I want to work in wine."