You want a Bloody Mary, but it's well past brunch o'clock. Plus, it's piping hot outside and the idea of vodka makes you feel faint. All you need is a nice refreshing beer, but with the flavor punch of a Bloody. Enter the Michelada.
Stir up a few pitchers of these bad boys and dazzle your guests with some fun facts about your beertail:
Did you know that michelada is derived from the phrase "mi chela helada," which translates to my cold beer? Well you do now, king/queen of fun facts.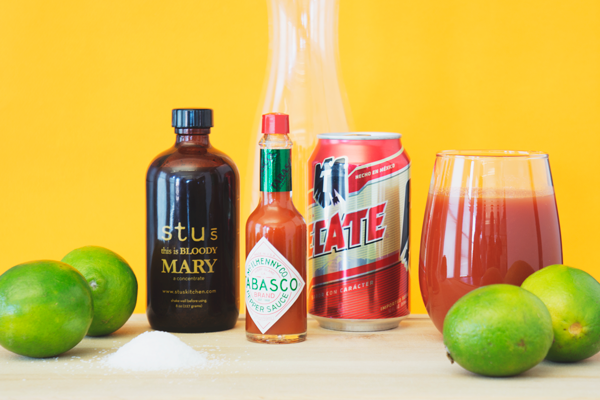 The Fixins:
– 3 ounces tomato juice (1/3 cup)
– 4 dashes Louisiana-style hot sauce, such as Tabasco
– 4 dashes Worcestershire sauce
– the juice of half a lime, plus wedges for garnish
– One 12-ounce chilled Mexican-style beer, we like Tecate or Bohemia
– Course kosher salt
– Ice
Makin' it:
1) Rim a standard mason jar with course kosher salt and fill with ice.
2) Add tomato juice, juice of 1/2 of a lime, 4 dashes (or more) of Tabasco, 4 dashes of Worcestershire sauce.  This creates the base of the Michelada.
3) Top it off with your favorite Mexican style cerveza and give it a stir. Salud!