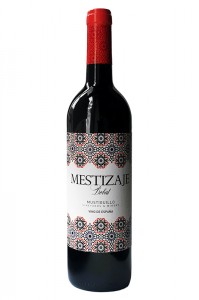 Feast your eyes on the 2013 Mustiguillo Bobal, one of six sumptuous bottles selected for WA's Unicorn Wines box. Never heard of Bobal? No worries, you're in good company… but not for long. Spend some time getting to know this lesser known Spanish red, and find out why it pays to explore. WA's Vino Lowdown is complete with tasting notes, music and food pairings, recipes and even the perfect drinking occasions. You'll be "Boballin'" in no time.
A Brief History by Kaitlin Ohlinger
So… guess what? Bobal is actually the third most planted grape in Spain. Wha? Why don't you see it every-damn-where? Why does it not grace the shelves alongside Tempranillo or Garnacha? Wellllll… here's the thing: Bobal is often used for blending (dismissed to "permitted varietal" status in many areas). Some producers have chosen to champion the grape's own merits, and the results are definitely noteworthy. Bobal enjoys the somewhat extreme temperature of its home, the Utiel-Requena region of Spain. The 100+ degree summers here are music to Bobal's ears. Bobal makes a firmly structured wine, with big notes of blackberry, plum, poignant tannin and amazing depth of flavor. This grape is a little prodigy. Don't say we didn't warn ya.
The Nitty Gritty
Home: El Terrerazo, Spain
Variety: Bobal
Vintage: 2013
Occasion: Making sure nobody is watching you dance
Best paired with:  Chipotle Steak Tacos
Rock out to: Paco De Lucia- Entre Dos Aguas
The Tasting Notes
This sumptuous dark vino from Spain is a knight that leads a one-grape crusade to glory. This juicy, indigenous old-vine Bobal was coaxed out of obscurity and into deliciousness. With proud roots in the limestone soil of El Terrerazo, intense concentration and gleaming swords of white pepper, there's no doubt it deserves way more attention than it gets. Open the gates, Bobal and his army of flavor arriveth!
Nose:  An orgy of plum, blueberry, pepper dust, dried strawberry, cinnamon and a touch of meat.
Palate:  A lover's quarrel between spicy, juicy and a pocketful of earth
The Perfect Pairing

Chipotle Steak Tacos, courtesy of Serious Eats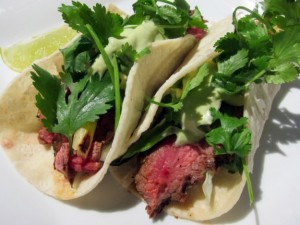 Ingredients:
1 (7-ounce) can of chipotle peppers packed in adobo sauce
1 whole flank steak (about 1 1/2 pounds)
Kosher salt
1 avocado, roughly chopped
1/4 cup sour cream
1 tablespoon vegetable or olive oil
1 bunch of scallions
1 lime, quartered
2 cups thinly shredded cabbage
1 cup roughly torn cilantro leaves
Corn tortillas for serving (see here for warming instructions)
Prep:
Using a food processor, hand blender, or blender, puree chipotle peppers with sauce until smooth. Season the flank steak with salt, and place it in a large plastic baggie with the chipotle purée for 15 minutes.
Rinse out food processor or blender bowl. Place avocado and sour cream in food processor or blender and puree until smooth. Season to taste with salt and set aside.
Remove steaks from marinade and wipe off excess with a paper towel. Preheat a lightly oiled grill pan over high heat until lightly smoking. Place flank steak on grill. cook until well charred, about 3 minutes. Flip steak and continue to cook until second side is well charred, about 3 minutes longer. Reduce heat to medium and continue to cook, flipping steak every minute until the center of the steak registers 125°F on an intant-read thermometer for medium-rare, or 135° for medium, about 5 minutes longer. Transfer to a cutting board, tent with foil, and allow steak to rest for at least 5 minutes.
Meanwhile, place scallions on grill and cook until charred and softened, 2 to 3 minutes total. Set aside and roughly chop. Slice the flank steak thinly against the grain. Serve with warm tortillas, avocado puree, cabbage, limes, grilled scallions, and cilantro.
Assemble tacos and smile.