---
These days, New Yorkers consume an average of 500,000 farmed oysters per week. But this isn't what lead to the near-complete decimation of the species in our local waters. This, Berlin Crystal Kelly will tell you, actually happened over the course of centuries of pollution and over-harvesting.
"We've lost 85% of oyster reefs worldwide," says the founder and co-CEO of Proud Pour wines. "We completely wiped them out."
The New York Harbor was once home to 220,000 acres of oyster reefs (more than 160,000 football field's worth), which some scientists estimate was actually half of the world's total population. By the early 1900s, the water was so toxic it was virtually lifeless, and it remained this way for the next 70 years. However, as Berlin points out, hardly anyone knows or – by extension – cares.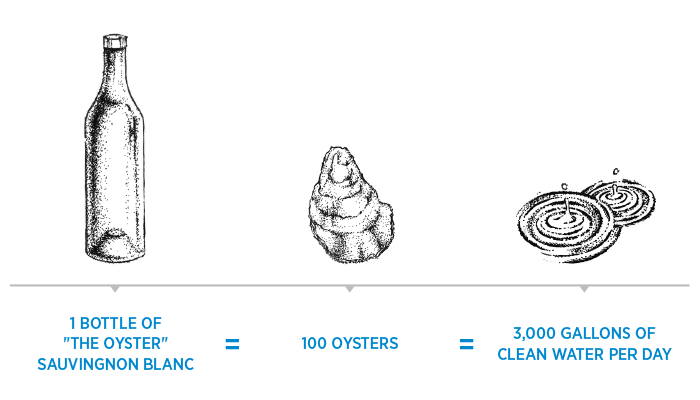 "I saw a documentary called Shellshocked: Saving Oysters to Save Ourselves," Berlin says, "And I was like, 'No one knows about this, I don't know about this, and of course I don't I'm working all day and then at night I'm going out for drinks with my friends.'"
So, she left behind a life in finance to bring the two worlds together. As a member of the New York City Homebrewers Guild, Berlin was already spending her free time making "beer, mead, wine, cider, kombucha – pretty much anything fermentable" in her tiny West Village apartment. By creating Proud Pour and its first wine, "The Oyster" Sauvignon Blanc, Berlin was able to simultaneously help rebuild oyster reefs, educate people about the issue and create a kick-ass wine that pairs perfectly with – you guessed it – oysters.
While making a wine that encourages the eating of oysters while also rebuilding oyster reefs may seem counterintuitive, we actually no longer eat oysters from the wild. One of the major reasons oysters are so important is that they clean water, so eating a wild oyster from today's polluted oceans may not be the best idea.

Other benefits of the aquatic species are that their reefs can be home to a range of colorful sea life like seahorses, crabs and starfish. They also remove nitrogen pollution and – perhaps most notably to those that are still reeling from Hurricane Sandy – protect against flooding from superstorms.
And Proud Pour isn't just for restoring oysters in New York. Berlin has partnered with organizations all over the Eastern Seaboard that are working towards oyster restoration in their area. So while purchasing a bottle of the Sauvignon Blanc in New York will go to restoring 100 wild oysters in waters like the Bronx River, Gowanus Canal and around Staten Island through partnership with the Billion Oyster Project, if you purchase a bottle in Massachusetts you'll be helping restore oysters in Nantucket or Cape Cod through partnership with organizations based there.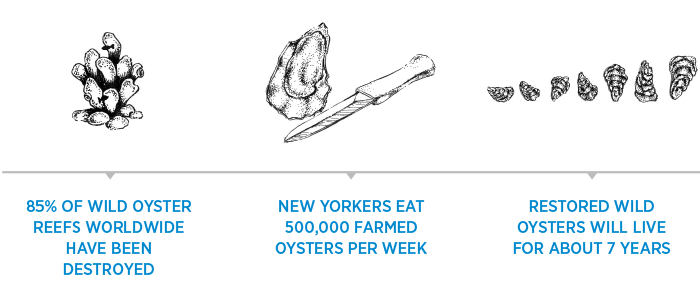 "We're in New York, New Jersey, Massachusetts, and soon to be Maine. So we have local projects for each of those areas and we're getting more specific and more local as we go on," Berlin explains. This attention to detail is exemplified in every aspect of the brand, from planting trees to offset their shipping emissions to using a biodegradable twine to tie on the recycled oyster shell around the bottle's neck. "We're definitely an environmental company," Berlin says.
While you ultimately may never get eat the oysters being restored today in your local harbor or coast, if things continue to go well you may one day be able to swim there or catch fish without fear of deadly pollutants thanks to efforts by restoration projects like Proud Pour and its affiliates. And, of course, the oysters themselves. By partnering with Proud Pour this month, Wine Awesomeness will be helping restore 72,000 wild oysters that will clean 2.1 million gallons of water per day.
We can certainly drink to that, and hope that you will too.