When you were young, your parents probably told you not to eat sweets for breakfast. Well, they're wrong and mean. Plus, Dana's breakfast style macarons weren't around then. Now they are.
You could scrape some cold butter across toast, but breakfast is the most important meal of the day. That's why it should be filled with joy, even if it means ingesting a lil' more sugar than mom would approve of.
Breakfast also has the potential to be a celebration of every new day. As Wine Awesomeness has been saying for quite some time: you just can't have a celebration without a bit of wine. Yes, wine.
So start your day the delicious way, with Dana's Bakery and Wine Awesomeness. Try out these Macaron and Wine mash-ups: The Breakfast Edition.
For once, you'll want to wake up.
1) The "Cup of Joe" Macaron and the Törley Fortuna NV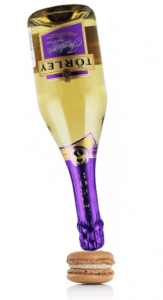 It's early, and coffee is synonymous with life. But, it can't hold off hunger forever. What if you could, like, eat coffee? You'd fill your belly and get your coffee fix all in one fell swoop.
Good news, you can do that now. And trust us, this ain't some stale waiting room coffee, this is bite sized, rich as f$*# joe with just the perfect amount of cream and sugar. Now that you've eaten your coffee, what should you drink? Wine Awesomeness' favorite  "breakfast wine," obviously.
You'd be hard pressed to find a liquid more awakening than the Törley Fortuna NV. This maverick sparkler from Hungary is packed with tongue-tickling bubbles and saturated with sugar. It'll complement (and cut through) the darker, deeper coffee flavors, making your outlook on the day a whole lot sweeter.
2) The "Jelly Doughnut" Macaron & The 2013 Fiction Red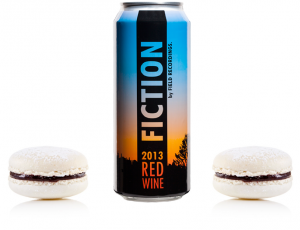 Donuts are the best excuse for an acceptable breakfast item we've ever come across. But fear not, you'll never slip on a mixture of Pine-Sol and grease in a Dunkin' Donuts again. The "Jelly Doughnut" macaron has arrived, and it means business. It's got a shell dusted with powdered sugar and a straight up jelly core that will accompany you out the door and into a delectable morning commute.
If on the go you'll need a drink that's both portable and capable of matching such macaron glory. Enter the 2013 Fiction Red, the first amazing canned wine in the world. It's not only a sign of the future (as easy to open as it is to drink) but it would marry this macaron if it could. Some of the jammier juicier flavors will gel with the jam itself, while kicks of Tempranillo and Touriga Nacional balance out all that sugar with some real nice spice. (Please commute responsibly.)
3) The Cinnamon French Toast Macaron & The 2013 Rickshaw Cabernet Sauvignon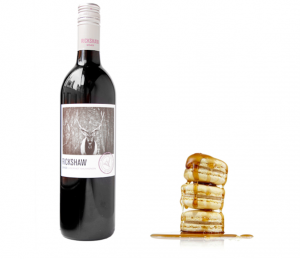 On a cold/cozy morning, a big plate of syrup soaked french toast is better than everything that's not syrup soaked french toast. Except, you have to actually make the stuff.
You'll be unwilling to whip out the pots and pans once you've put your mouth on Dana's Cinnamon French Toast Mac. A bite-sized bundle of sweet syrup, savory toast and a dusting of warm cinnamon spice? Just thinking of it warms the belly and the heart.
To help induce the cozy coma, you'll have to have a glass of the 2013 Rickshaw Cab Sauvignon on hand. It's a classic California Cabernet packed with plush dark fruits, a fistful of spices and a hint of cedar that'll play real well with the maple. Double down on your sugar, spice and savory… it's the heartiest damn wine and macaron breakfast we've ever heard of.
Make sure there are plenty of blankets in the vicinity.
-Click here to get all these macarons in Dana's "Breakfast Box"-