Montauk, NY is a tiny Northeast beach town at the very tip AKA "The End" of Long Island.  It is exactly what a beach town should be; dotted with surf shops and beach bars that are easy to discover via flip flops, board shorts, and a rusty beach cruiser.  The charm of this town is rooted in just being difficult enough to get to that it attracts a slightly different type of a human.  It is an eclectic collective of travelers, dead enders, and the influential looking to get off the grid, but seemingly all mixed in to one clam bake.   
Not surprisingly, such a unique place is the inspiration for several movies and television shows.  "The End" is a key setting for the SHOWTIME® drama series, The Affair, and to celebrate the return, we decided to share some of our favorite spots in the 'Tauk.
Here is a quick hit list for a perfect weekend in the Northeast's unpolished beach jewel.  See if you can spot any of these spots during the show's premiere at 9PM, Sunday, June 17!  
Lunch
What to drink:  Dip in to the extensive frozen cocktail menu i.e. margs, bellinis, and colodas with all kinds of fruit flavors
What to eat: The Hot Lobster Roll and Fried Clam Strips
Why it's cool:  This is probably either your first stop upon driving into town or your last stop as you leave each trip, or potentially both.  This roadside seafood stand is quintessential Montauk, and has become famous due to its pivotal role in the SHOWTIME® Original Series, The Affair.  While Lunch has become a unique landmark because of the show, the taste of the lobster roll hasn't changed a bit.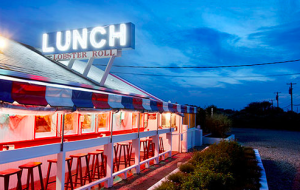 Solé East
What to drink:  Lekker red, white, and / or rosé
What to eat:  Clam Chowder
Why it's cool: This is your Montauk base camp.  The boutique property sports a pool, beautiful lawn, and backyard restaurant with some seriously awesome and very fresh caught seafood.  The charm in Solé rests in that the property is a bit of an escape from the more "scene-y" elements of Montauk without sacrificing any cool factor whatsoever.  We suggest taking advantage of the free beach cruisers to discover this hit list and beyond, and for a real pro move, make sure to find yourself by the fire pit late night.  Maybe with some red vino.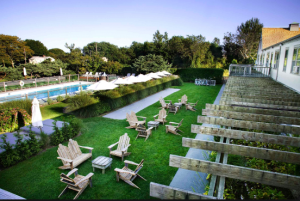 The Montauket
What to drink:  Cold beer in a can or rosé in a plastic cup
What to eat:  Fried seafood, all of it
Why it''s cool: Maybe the best dive bar in America, The Montauket is where locals and visitors alike flock for the sunset.  And this is quite a sunset. The crowd literally stands and applauds when the sky has just the right amount of clouds and the big burning star in the sky slides in to the Long Island Sound.  The sunset may be the most fancy thing you'll find here, but good cheap beer, fried fish baskets, and live music will lead to some serious "come as you are" relaxation.  Look out for the local reggae / rock band, Jettykoon, and rumor has it that Red Hot Chili Peppers drummer, Chad Smith will sit in on an occasional set.

Crow's Nest
What to drink:  Hit up the wine list
What to eat:  The Blue Crab Pasta dish is the real deal
Why it's cool:  This place is kind of like walking into a Wes Anderson film, especially as you walk down the bluff towards the lakeside bar with excellent cocktails, outdoor seating, and fire pits.  Crow's Nest is a hot spot and does not take reservations, so you will want to pop by early to put your name on the wait list.  The good news is that the wait is quite enjoyable.  Mosey on down to the lakeside tiki bar for an adult beverage and find yourself a perch near a fire pit.  Repeat said adult beverage once or twice and then it'll be dinner time.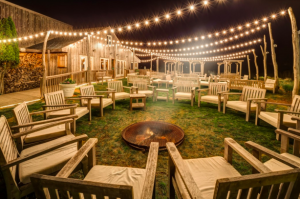 Memory Motel
What to drink:  Divy well drinks that remind you of college
What to eat:  Nothing
Why it's cool:  This property inspired the Rolling Stones tune with the exact same name.  That is basically all you need to know.  In the late 70s, the band was hanging with Andy Warhol and prepping for a nationwide tour with some down time on the beach.  The band enjoyed hanging at this hotel and a lot of the lyrics in the Memory Motel ballad allude to some serious fun times.  Fast forward a few decades and it seems that the rock and roll fun times are still happening here.  Go for some dancing and "one last" cocktail for your night out.  
©2018 Showtime Networks Inc. All rights reserved. SHOWTIME is a registered trademark of Showtime Networks Inc., a CBS Company. "The Affair": ©Showtime Networks Inc. All rights reserved.