If you've been following our absolutely heart-in-mouth series of articles covering European Wine Classification systems, get ready to chill.
We've gotten through France and Italy and their individual neuroses. Spain is a breath of fresh air! Anybody who has studied for any kind of wine exam always whispers a secret "thank you" when they get to Spain.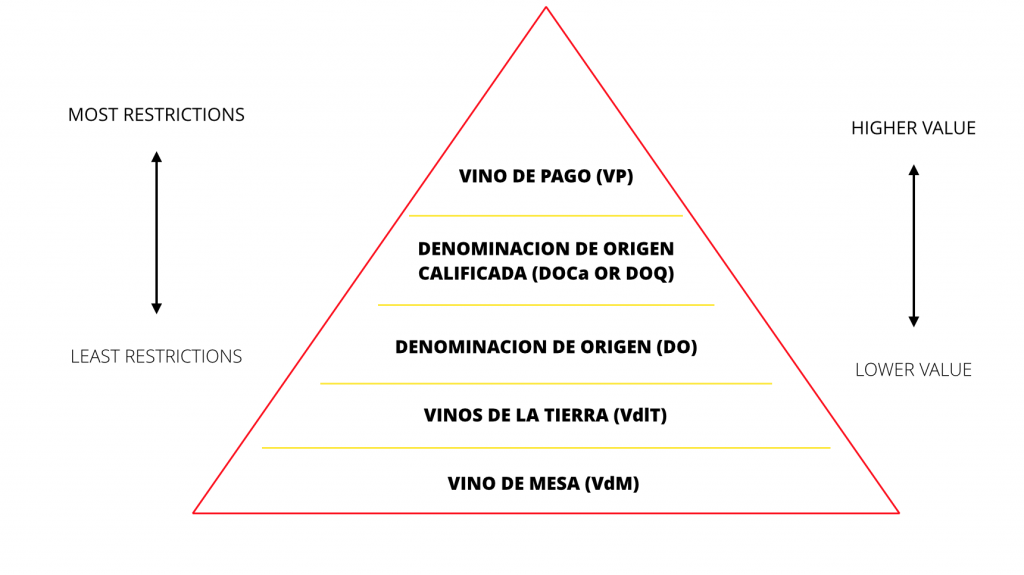 The Basics
Vino de Mesa (VdM) is the broadest, least uptight label in Spain. Literally "wine of table" in Spanish. Pick up a bottle with this on it, and you're gettin' some no frills wine that was made with Spanish grapes. No muss no fuss.
Vinos de la Tierra (VdlT) is next up. Meaning "wine of the land," it is again roughly equivalent to the VdP and IGT levels in France and Italy. Wine must follow the basic rules of the regions they're made in. Regulations aren't quite as strict though, plus the vintage and grape are allowed to be printed on the label. Often very compelling and interesting wines can be found in this arena!
Denominacion de Origen (DO) is a fairly large level in the Spanish system. Nearly two thirds of the vineyard acreage in Spain fall within DO boundaries. Some examples of Spanish DO's will be pretty familiar: Cava, Jumilla, Ribera del Duero, Rueda and Toro are just a few. These are wines produced by a slightly more stringent set of regional standards.
The Nitty Gritty
Denominacion de Origen Calificada (DOCa or DOQ) is the highest level in Spanish wine, which is to say, to be a DOCa you have to follow the most rules regarding grape yield, blend, growing and winemaking techniques, alcohol percentage etc. etc. This rung on the ladder includes just two regions: Rioja and Priorat.
The DOCa of Rioja boasts some of the more historic traditions in Spain. To be called Rioja, you gotta follow some pretty stringent rules. For example, any Rioja blend must be composed of at least 85% Tempranillo blended with Graciano, Mazuelo & Garnacha.
But wait, there's more!
In 2003, Spain introduced Vino de Pago (VP) as a way to further the improvement of Spanish wine. Vino de Pago indicates wine made on one particular estate or vineyard by the highest of standards. There are around 15 of these in Spain currently.
That's about it. Don't you feel great about yourself? Now would be a perfect time to have a congratulatory glass of wine. It might even taste better now that your brain is full.