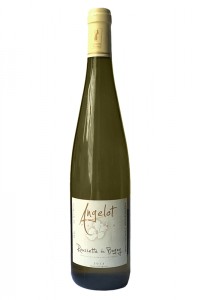 Lo and behold, the 2012 Domaine Angelot Roussette de Savoie! This is a wine made in the crisp alpine air of France, and you can tell just by tasting it. Made with a rare and oft-overlooked grape by the name of Altesse, this beauty of a bottle is one of the six stars of Wine Awesomeness' Unicorn Wines month. This WA Lowdown is designed to tell you everything you need to know about this delicious juice: the nitty gritty details, the food and musical pairings (complete with recipes) and even the perfect occasion on which to indulge. This is just about as much as you can know about a wine without actually drinking the stuff, which we also highly recommend you do!
 A Brief History by Kaitlin Ohlinger
YUM. That *might* be about all you need to know about this one, but just for the sake of things, lets dive in a bit. This humble little white grape is found in the Savoy region of France, which is located in the Western Alps near the Swiss border (think Julie Andrews twirling in a field). Also known as Roussette, you might see it labelled as Roussette de Savoie or Roussette du Bugey. A total overachiever in the world of unusual whites, these wines strike a perfect balance of lean yet vividly fruity; aromatic yet dry and minerally. Flavors of stone fruit, green pears, violets and hints of almond and hazelnut are to be found. Its DNA is somewhat confounded: some say its heritage lies in Turkey, some in Cyprus, and there are those that insist it originates right there in the Savoy region. We're not sure we care either way, but we heart this grape.
 The Nitty Gritty
Home: Savoie, France
Variety: Altesse
Vintage: 2012
Occasion: A (very) casual hike
Best paired with: Uber Cheesy Fondue
Rock out to: The Virgins- Fernando Pando
The Tasting Notes
Altesse is a grape that calls the mountains of the French Savoie home. She descends down the slopes from the crisp alpine air with a basketful of spices. The rocks ring out with a minerally crunch, her voice bounces and tapers with the inflection of sweet and savory honey and nuts. Mmm. This under appreciated wine will make Chardonnay lovers smile and wonder where the hell Altesse has been all their lives.
Nose: White peach, honeydew melon and stone fruit hold hands
Palate: Crispy minerals, controlled and all too refreshing
The Perfect Pairing
Uber Cheesy Fondue, Courtesy of Serious Eats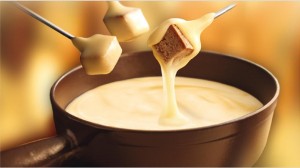 Ingredients
1 1/2 cups grated Gruyère
1 1/2 cups grated Emmental
1/2 cup of grated Appenzeller
2 tablespoons cornstarch or all-purpose flour
1 clove garlic, halved
1 cup dry white wine
1 teaspoon fresh lemon juice
Splash of kirsch
Freshly ground pepper, to taste
Pinch of nutmeg
Crusty bread cut into large cubes
Steps
In a medium-size bowl, combine the three cheeses and toss with the cornstarch or flour.
Rub the inside of a fondue pot with the garlic halves. Add the wine and heat over medium heat until hot, but not boiling. Stir in the lemon juice and kirsch.
Add a handful of cheese at a time to the wine mixture, and stirring constantly with a wooden spoon, wait for each portion of cheese to melt before adding the next. Continue stirring until the cheese is completely melted, bubbling gently and has the appearance of a light, creamy sauce.
Season to taste with pepper and nutmeg.Remove the pot from the heat and place over an alcohol safety burner set on a table. Adjust the burner flame so the fondue continues to bubble gently. Serve with plenty of crusty bread cubes.