For all of Larry David's contributions to popular culture, perhaps his most noble endeavor was to remind the American people that wood must be respected. This begs the question: DO YOU RESPECT WOOD?
If you do, you'll know that the coaster is key to maintaining the integrity of all fine surfaces, wooden or otherwise. But coasters need not be boring pieces of plastic with no purpose other than to protect from ring stains. Coasters can bring joy to you and your guests alike, in ways you've never imagined.
Bearing all this in mind, we present to you 5 sets of coasters that will make you actually want to use coasters:
1)  The Sandwich Coasters
Legend has it that it was Socrates who claimed "the best coasters are those that don't really look like coasters at all." That's why these coasters ingeniously disguised as the components of a sandwich are well worth adorning your home with. Why stop at just one slice of bread? The best part is assembling your favorite sandwich to wedge between your coffee table and the base of your condensation-ridden glass. Get 'em here.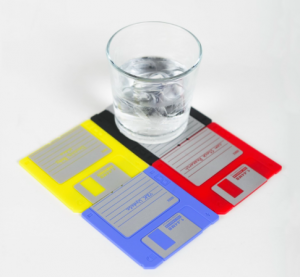 2) The Floppy Disk Coasters
Technically, you could just use real floppy disks as coasters, since they've really got no other use these days. However, these nerd-friendly coasters are actually designed to be coasters, which is good, since real floppy disks can't absorb water, being made of metal and plastic. Not to mention, when's the last time you saw a real floppy disk? Snag them here and earn extra 90's kid points.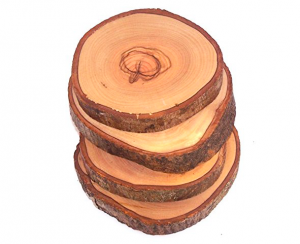 3) The "You Classy" Coasters
Novelty coasters are all well and good, but every now and then you've got impress an in-law, a creepy professor, a first date or just somebody who likes nice things. These coasters are carved from a matte varnished, high-grain-density olive wood- which all sounds pretty damn nice. Step up your dining room game right here.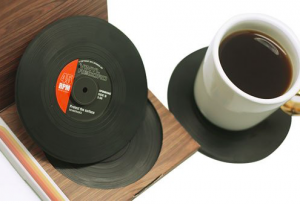 4) The "I Have that on Vinyl" Coasters 
Whether or not you believe that vinyl records provide a warmth and presence that cannot be replicated in Mp3 or even CD form- this is a handsome, nostalgic and cultured set of coasters designed with the music lover in mind. Let's face it, most people start collecting records because they look cool. The same goes for these coasters. Pick them up here.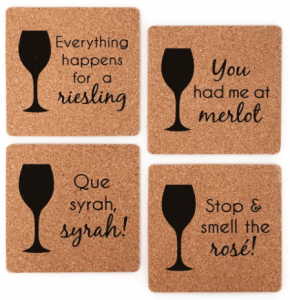 5) The Wine Pun Coasters
Last but certainly not least, a set of four coasters designed for those who enjoy indulging in wine and wordplay. If you don't like a good wine pun, it's unclear why you're reading this article to begin with. Don't take yourself too seriously, grab them here and titillate your thirsty neighbor every time.