"Because of my background I can't keep things simple," says Scott Burr of Carta Coffee Merchants. His excitement bursts through the phone as he begins to talk about his transition from winemaker in California to coffeemaker on the Big Island of Hawaii.
As a grower, Scott has found many similarities between coffee plants and grapevines. As drinkers, we have often made this connection as well. While the flavor profiles of wine have been studied for as long as humans have been making the stuff, it is only in recent decades that people have begun to recognize the complex and varied flavors in coffee.
Until the first Peet's Coffee & Tea opened in 1966, there was virtually no good coffee in the US (Yes, Dunkin' Donuts opened 16 years earlier and it was as low-quality then as it is now). Today, however, we seem to have reached the other extreme, with baristas that smirk at you if you ask the difference between a cortado and machiatto and pour-overs calculated down to a science. Coffee has reached a new level, and Scott is helping it soar even higher. Having grown up in the wine industry and spent over 20 years advising vineyard owners, it was a bit of a departure for him to purchase an overgrown coffee plantation in Kona, Hawaii.
"It was a disaster," Scott says of Nolyssa Farm, named after his children Nolan and Alyssa. "It was an overgrown jungle and the trees were in need of a lot of love." But, Scott says, he always had an interest in coffee and the combination of a fresh perspective and his vineyard experience has allowed him to do a lot of experimenting.
There are many steps that go into creating a cup of coffee, from the harvesting to drying to roasting to cupping, and Scott has turned each step into a variable for him to alter, test and tinker with. One of his experiments that speaks most to wine drinking are his side-by-side tastings.
"With the Latitude Tasting, the beans are the same, but the drying process is done in two very different ways," Scott says of one of these side-by-side comparisons. Drinkers receive two six-ounce bags, one with beans dried using a traditional process and the other using what Scott calls the natural process. Both are 100% Kona coffee. "I want to show people flavor difference," he explains, "that they can have something unique, and the side-by-sides reveal that."
Kona coffee is widely known for its sweetness and medium body without the acidity you would find in a light roast coffee (sound like wine tasting yet?). According to Scott, many people who generally prefer to take their coffee with milk and sugar don't feel the need to add anything to a cup of Kona brew.
Perhaps even more reminiscent of winemaking is Scott's foray into aged coffee.
"I'll keep part of my coffee from this harvest in a temperature controlled room for another whole year and will just see what happens," he says. "Aged coffee is something that intrigues me, and I think it's going to produce a bean with a flavor profile that's completely different."
Coffee with such a dynamic flavor doesn't come cheap though. A 12-ounce bag of the Carta Coffee Merchants Captain's Roast will run you $45. And it's not just this brand: Peet's Coffee & Tea sells a 100% Kona reserve for $24.95 per 8-ounce bag and Starbucks sells their version for $34.50 per 8.8-ounces (although it is not currently available on their website). Kona coffee simply doesn't come cheap, but as someone who truly appreciates a good drink, Scott believes in the value of the tropical beans.
"I don't know if all the experiments will be successful, but I'm bringing the fun the passion back to the farm," Scott says, "And who knows, maybe I'll come across something that's never been done before."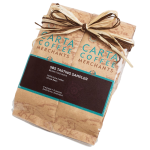 Want to try some of Scott's 100% Kona coffee for yourself? Order the Lattitude Side-by-Side Tasting Sampler and get a free bag of the Captain's Roast – exclusively for thebacklabel readers! Just enter code KONA16 at check out!