Spending time gabbing over celebrity gossip is almost always a waste of time. At the end of the day, the personal lives of those in the limelight mean very little, unless those lives involve significant amounts of wine, in which case- gab on! With that in mind, we bring you five celebrities who are serious about their vino, and may just love it even more than you do…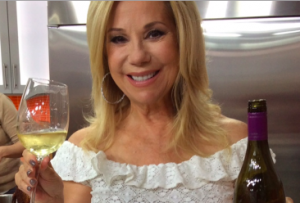 Kathie Lee Gifford
Kathie Lee is nothing short of a wine legend by now. Though she is best known for her career on morning talk shows, we have a feeling she identifies as wine lover, then media personality. Kathie's time on TV is often spent sipping wine, despite the fact that the bulk of her hosting is done in the morning, when Americans are waking up.
As if her televised, ceaseless sipping and praise of the good stuff weren't enough, she also launched her own line of wines. In partnership with Scheid Family Wines, Kathie Lee established GIFFT so that her fans and fellow winos could taste what she's talking about when she and Hoda are raving about vino on Today.

James Murphy
The LCD Soundsystem frontman ascended to rock star/indie darling status by writing some of the most popular dance music of the past few decades. But when he's not helping throngs of youth shake, he's probably spending time with wine. He loves the stuff, so much so that he opened up a much-hyped natural wine bar in Williamsburg last summer.
Though Murphy's "retirement" from music proved to be pre-emptive and short lived, the drinks list at his wine-centric haven for hipsters, bon vivants and LCD fans is long as hell, well thought out and oh so serious. As an arbiter of taste for indie kids everywhere, Murphy has probably created a new generation of weird wine seekers.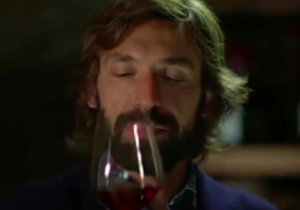 Andrea Pirlo
Pirlo is one of the most legendary Italian soccer players of all time. He's an Olympian, a World Cup Winner and one of Serie A's most successful footballers. Ask any soccer fan about Andrea, and they'll wax poetic. He's got more trophies and a better beard than just about anyone.
But this Italian Knight has passions off of the pitch too: he's obsessed with wine. He spent the summers of his youth on his grandmother's vineyard in Brescia, harvesting and drinking the stuff daily. These days, Andrea actually owns a vineyard in Italy. We'll be damned if he doesn't become a winemaker after he stops setting up and scoring some of the silkiest goals in soccer history.
 Titus Burgess
If you haven't seen Unbreakable Kimmy Schmidt, you're missing out. Not only because of the endlessly witty dialogue and endearing characters, but because of Titus Burgess and his epic song called "Peeno Noir."
Apparently, Titus Burgess (who plays Titus Andromedon in the show) improvised this entire song on the spot- which is proof positive that his love for Pinot Noir runs deep. More proof? He recently released a line of Pinot Noir that is sure to spark many a late night singalong. Wine legend status attained.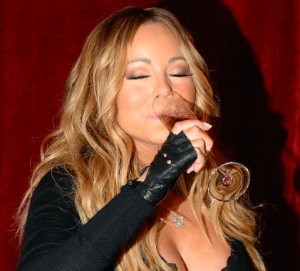 Mariah Carey
Mariah is a diva through and through, a diva that loves her some wine. There's Angel Champagne, the incredibly expensive, platinum-plated bottles of bubbly only she could endorse and drink too much of before film festivals. There's Mariah Zinfandel, the Mendocino County wine she invested in. Then there are the rumors that Mariah fills soda cans with white wine while on the go during the daytime- clever, Mariah. Then there's that one time she ordered a bottle of Angel Champagne to her stall in the bathroom in "da club," a stunt that apparently cost her about $1,600.
She's got a set of pipes and really really likes her wine, especially her high-end bubbly, and who can blame her? Sing it loud and proud, Mariah.