When we sent out a sugary Hungarian sparkling wine to our Wine Awesomeness members, we had a feeling this was a straight up breakfast wine! But, what would a breakfast sparkling be without an awesome breakfast? Here's the recipe you need to start your day off in sweet, fizzy morning heaven.
Best paired with: Törley Fortuna NV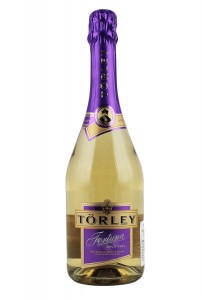 Ingredients
3 pounds of whatever apples, or mix of apples, you like to bake with, peeled, cored and cut into medium chunks
2 tablespoons lemon juice
3 tablespoons sugar
2 tablespoons cornstarch
1 teaspoon cinnamon
Salt
1 stick (8 tablespoons or 4 ounces) unsalted butter
1/4 cup honey
1/2 cup flour
2 cups oats
1/2 cup sliced almonds
Prep
Preheat oven to 400°F.
Mix apple chunks with lemon juice, sugar, cornstarch, cinnamon and pinch of salt in a 9×13-inch baking dish until apples are evenly coated.
In a medium saucepan, melt the butter with the honey. Stir in the flour, oats, almonds, coconut and another pinch of salt until clumps form. Sprinkle evenly over the apple mixture and bake in the oven for about 45 to 55 minutes, or until the apples are softened and bubbly.