Trigger warning: It's come to our attention that there is a small legion of … how should we put this … "unique" people out there who don't like chocolate. If you are one of these people- turn back now! If you can imagine nothing more euphoric than a sympathetic swathe of cocoa dancing across your tongue, stay put!
See, Dana's Bakery has found a new way for chocolate to be ridiculously great: in macaron form! But even the most singularly awesome stuff needs a partner in crime. Thelma had Louise, Bonnie had Clyde, Tom Hanks had a volleyball and Dana's Bakery now has Wine Awesomeness. Why? To come up with the perfect wine pairings for their myriad macarons.
Eating chocolate packed macarons is great, but eating chocolate packed macarons and drinking the perfect glass of red wine with 'em is pretty ineffably incredible… you'll agree. Without further ado, Wine Awesomeness and Dana's Bakery present to you perfect pairings: the Chocolate & Red Wine Edition.
1) Molten Chocolate Macaron & 2011 Uvaggio di Giacomo Primitivo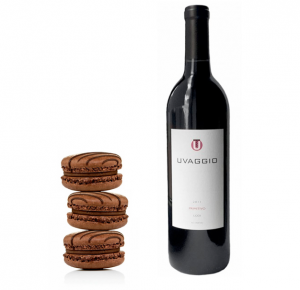 Wouldn't it be awesome if lava (or magma if you want to get all nitpicky) came in chocolate form? This Molten Chocolate Macaron has a milk chocolate shell that gives way to a dark chocolate ganache. Last but not least, there's a super rich center that's worth going to the core of the earth for.
To complement all of the richness and layering is a unique and wily wine: the Uvaggio di Giacomo Primitivo. This red is made from Italian grapes grown in California, and tastes like red fruits, flowers, fresh pie crumbs and a dash of old leather satchel all mashed up. It packs a punch of tart tannins that'll cut through the depth and darkness of the chocolate. This flavor refresher will awaken your tongue from it's choco-coma, so you can do it over and over again.
2) Red Velvet Macaron & 2013 Dingač Vinarija Plavac
Aristotle once said, "just because it's red doesn't mean it's not deliciously chocolatey." Dana's Bakery has heeded these sage words and carried the rich (in so many ways) tradition of Red Velvet into modernity and macaron form. Wrap your brain and tongue around a lush red shell that gives way to a savory cream cheese filling and you certainly won't regret it.
What to pair with red velvet macarons? Red wine of course. In particular, a gem of a wine from Croatia. The 2013 Dingač Vinarija Plavac is the best thing to come out of the Dalmatian Islands since spotted puppies. It's gulpable, slightly savory and embodies a saline flavor called "freskina," meaning "essence of the sea." This wine will become fast friends with that cream cheese and chocolate packed mac before you have a chance to consume them both.
3) S'mores Macaron & 2013 Vinum Pinot Noir
We all know that the best part of any S'mores is the hot melted chocolate. So, you could go buy graham crackers and 'mallows and all the fixins and start a fire in your backyard and melt down some chocolate… but you won't want to once you taste the S'mores macaron. It's got a center filled with milk chocolate ganache and Dana's own marshmallow fluff. All this, sandwiched by a chocolate and graham (gluten free graham!) shell on either side. And, you don't have to start a fire.
The 2013 Vinum Pinot Noir is the perfect partner for this chocolate filled tango. This California take offers up its fair share of black cherry, some spice to counter the 'mallowy goodness and last but not least the undeniable essence of graham cracker. Light a candle, pop a bottle, pop in a macaron… it's the best way to camp.
(Check out the Chocolate Lover's box from Dana's right here.)