This spring, former Knicks star Amar'e Stoudemire made headlines in a big way. Not for carrying the Knicks to victory (the two are incompatible) or for his move to the Dallas Mavericks. In fact, the power forward's press had nothing to do with the NBA.
Stoudemire's name lit up ESPN because of his penchant for taking red wine baths on the regular. Naturally, this got us thinking about bathing in red wine.
After we got over the fact that it's a real thing, we needed to learn more. Is it just a gratuitous display of wealth and ballerific-ness? Does it really have health benefits? A bit of both? How can we do it?
Our research was fruitful, aspiring bathers. Get the nitty gritty on the red wine bath below and break open your piggy banks.
Where? Aire Baths New York was Amare's go-to wine soaking spot. Turns out, more and more spas in major cities across the USA are offering "wine therapy" baths. The more you know…
How long? The typical red wine bath last about 30 to 45 minutes. Enough time to knock out a crossword puzzle, give an interview to ESPN or snap a million selfies of yourself in a red wine bath.
What's the right temperature? 97 degrees fahrenheit. A good warm soak! Some spas even have the jets going. Talk about decanting…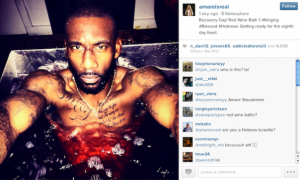 What kind of wine? Typically, a concentrate of Spanish Tempranillo. Sorry, Spanish winemakers.
Price tag? In NYC, this bath runs close to $500. Sounds pricey, until you remember it's a red wine bath.
Health Benefits? Surprisingly, yes! It's said to cleanse the body of toxins, improve blood flow, and keep the skin young. A great alternative to botox, juice cleanses and working out.
Could you come up with a better use for $500? Probably, but kind of not really. You know what we say: #wineallthetime at Wine Awesomeness, especially in the tub!