What's so super about Super Tuscans?
That's easy: Tuscany.
Any conversation about Super Tuscan wines must begin and end with the historic region from which they hail — that romantic, awe-inspiring slice of land in northwest Italy. Tuscany's joie de vivre — its land, its producers, their outlook — is the essence of what makes their wines (Super Tuscans included) so sought after. For Italy's vintners, winemaking is a way of life — a labor of love.
A couple weeks ago a friend asked me about Super Tuscans. I found myself fumbling as I hazily recalled sips of Tuscany during a several-month stint in Florence years back. I half-remembered some educational chats, and I erroneously mixed some of my Chianti education into an explanation of what the wines are and what they can be.
When I went back to the books, I realized why. The definition of Super Tuscans is anything but clear and concise.
The most basic fact of Super Tuscans is that they're wines that don't adhere to or carry a Denominazione di Origine Controllata (DOC) classification. Instead, Super Tuscans are frequently classified within the less stringent Indicazione Geografica Tipica (IGT) or, less commonly, Vino de Tavola (table wine).
But simply because Super Tuscans don't abide by DOC or the stricter DOCG standards doesn't mean they're any less toothsome than their popular Chianti counterparts.
Chiantis must be composed of the famed Sangiovese grape. Yet Super Tuscans can be blended of several grapes, including Cabernet Sauvignon, Merlot, Cabernet Franc, Syrah and (of course) Sangiovese.
Given the varying grapes in these blends or even non-blends, Super Tuscans can taste all over the place. I most often find myself fawning over the Super Tuscan's spice and slight tobacco leaf flavors — characteristics that are balanced against subtle cherries and plum flavors up front.
With all the grapes that may or may not be used, and the absence or a DOC or DOCG, how can a casual consumer locate a Super Tuscan wine? The key is to look for "Toscana IGT" rather than DOC, DOCG or any variation of "Chianti" on the label.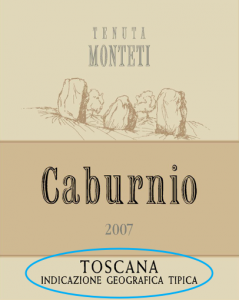 As always, don't hesitate to ask your local somm or wine shop proprietor for recs and a rundown on Super Tuscans. Like their flavor profiles and components, the price tag for Super Tuscans can be all over the map. You can find silly-as-can-be values as low as $20 or collection superstars in the thousands.
Now seems the perfect time for a Super Tuscan renaissance in America. Cultural shifts, increasing openness and rapid-pace media have led to morphing definitions and classifications of people and places. Strict labels and adhering to tradition are outdated. And that — that is exactly how Super Tuscan wine was born.