Long before he sang "Can't Feel my Face" and Taylor Swift couldn't stop touching his hair, The Weeknd trilled "Montreal." Released in 2011, it was this track that first drew my attention to the sprawling, culture-rich city.
In November, when I was due for a quick, post-election getaway, Montreal presented itself. Flights were cheap and the French influence was enticing. So I set it up.
My decision proved to be a wise one. The architecture was mesmerizing, the bistros cozy and the people personable. But most importantly, the vin au verre (wine by the glass) was top-rate.
Here are five dynamite wines to be sought out in MTL and, more critically, where to drink them.
(I'm aware the following is French-heavy, but c'mon, I was drinking in the second-largest Francais-speaking city in the world.)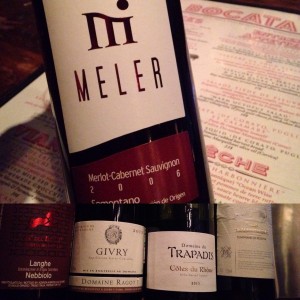 Meler Crianza 2006
Somm Mitch pulled out this crazy-value Crianza on my second stop at Bocata, an entrancing, let-your-mind-wander bistro a few blocks from the center of Vieux Montreal (Old Montreal). The spot is nautical in its theme, with perfect candle-lighting, exposed stone and comforting, dark-wood tables. Selecting the wine was a toss-up; each by-the-glass pours I tasted – a Givry, a Langhe Nebbiolo, Domaine de Trapadis Cotes du Rhone — were fresh and expressive.

Cueillete 2014 Beaujolais
One of the liveliest beaujolais I've ever tasted, the elegantly rambunctious red matched nicely with the quirky decor of this cocktail-centric eatery. The bar was lined with vintage beer cans and random funkiness, and my quick-witted bartender was thoroughly entertaining. I didn't get to the oysters, but they came highly recommended from my friends at the next spot …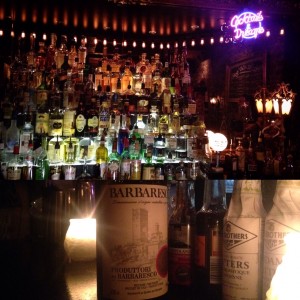 Produttori del Barbaresco 2010
Don't — do not — spend a weekend in Montreal without making a 1-2 stop at sister restaurants Bocata and Barroco. Both joints are housed in a circa-1802 stone house, and the vibes cool as they come. Barroco is a touch more edgy, almost tastefully gothic, and Bocata, as I mentioned above, Montauk-chic. The sommelier at Barroco, a colorful young lad whose name escapes me, was eager to pour this medium-acid Barbaresco that flaunted sweet tannins and a touch of spice.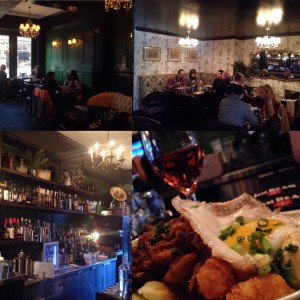 Domaine du Tariquet Rosé 2014
Browsing the web, I see The Wine Curmudgeon is quite the fan of Domaine du Tariquet — for good reason. This rosé was a steal at $7 Canadian dollars a glass. It was a superb pairing with my breakfast poutine (what isn't?) and a few more glasses ushered me safely into my third and final night in the city. Huge shout out to the staff at this recently-opened, Little Burgundy eatery. They knew how to make a roaming tourist feel at home.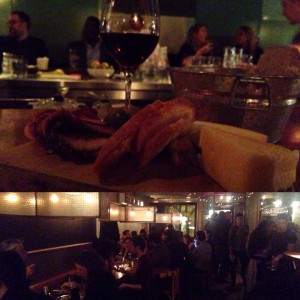 Domaine de Montcy Cheverny Rouge
Buvette is beloved by Montreal's food and bev crew. Faces lit up as soon as I mentioned I was heading there. "I loooooovee Buvette di Simone." No one had a bad thing to say about this wine-focused dinner lounge. After a few aimless hours at the bar, it was easy to see why. The chill vibe and dim lighting is perfect for people watching, and the wine list was a fascinating read. About 20 natural wines are poured by the glass, including this Domaine de Montcy Cheverny Rogue, a delightful rush of raspberry and back-end pepper.