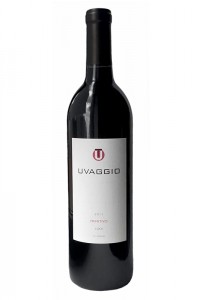 Bongiorno from Lodi, California? This edition of the WA Lowdown is designed to teach you everything you'd want to know about the 2011 Uvaggio di Giacomo Primitivo, one of the bottled beauties included in WA's Unicorn Wines box. This rare red is an Italian immigrant living the American dream on the sunny west coast of the USA. Without further ado: tasting notes, perfect food pairings and recipes, musical suggestions, nose, palate, and even our thoughts on how you should drink it!
The Nitty Gritty
Home: Lodi, California
Variety: California-grown Primitivo
Vintage: 2011
Occasion: Celebrating the untying of your snow boots
The perfect pairing: Grilled Pizza with Shiitake & Sopressata
Rock out to: Parquet Courts- Borrowed Time
The Tasting Notes
Forget the link to Zinfandel. Primitivo is its own grape, and it ain't afraid to remind you with a tannin punch to the mouth. Once a sunbather on the Adriatic, this grape has made its way to California. It's got plenty of fruit and flavor, but remains true to its rustic roots with a dash of minerals and something small-village-in-Italy-ish. Think strawberry, stones and the tastiest damn dust you've ever had.
Nose: Red dusty fruits, pressed flowers and fresh pie crumbs thrown into an old leather satchel
Palate: Jammy but restrained, a medium bodied wine swimming right on the edge of the deep end
The Perfect Pairing
Grilled Pizza with Shiitake & Sopressata, courtesy of Serious Eats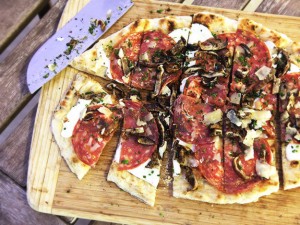 Ingredients
2 pounds homemade or store-bought pizza dough
12 ounces shiitake mushrooms, stems removed
2 tablespoons extra-virgin olive oil, plus more for drizzling
Kosher salt and freshly ground black pepper
6 ounces thinly sliced sopressata
1 pound fresh mozzarella, sliced, drained between paper towels
1/4 pound roughly grated or shaved Parmesan cheese
3 tablespoons finely sliced chives or scallions
Prep
Use a knife or bench scraper to divide dough into four even pieces. With lightly floured hands, form into tight balls. Lightly oil 4 medium containers (large soup bowls work great) and place 1 dough ball in each one. Lightly grease the tops of the dough balls then cover each bowl with plastic wrap. Allow to rise at room temperature until doubled in volume, about 2 hours.
Meanwhile, toss shiitake and olive oil in a large bowl. Season with salt and pepper.
On a heavily floured surface, roll a dough ball into a disk about 13-inches by 9-inches and 1/4-inch thick using rolling pin. Repeat with remaining dough balls, placing a sheet of parchment between each one.
Place mushrooms over hot side of grill and cook, turning frequently with tongs, until charred and tender, about 3 minutes. Transfer to cutting board and roughly chop. Place sopressata over hot side of grill and cook just until fat starts to render, about 15 seconds. Transfer to a plate.
Brush top of 1 dough round with a thin even layer of oil and season with kosher salt. Place gently on hot side of grill, oiled side down. Immediately brush top side with thin layer of oil and season with salt. Cook, checking frequently and moving to encourage even browning until bottom is dark brown and charred in spots and top is bubbly, 45 to 90 seconds. Flip using tongs or large spatula and cook until second side is charred. Flip again and transfer to cooler side of grill

Apply 1/4 of mozzarella in a thin even layer across surface of pizza. Add 1/4 of sopressata and 1/4 of mushrooms. Cover and cook until cheese is melted, about 1 minute. Transfer pizza to cutting board with large spatula or metal pizza peel. Add 1/4 of Parmesan and 1/4 of chives. Drizzle with more oil and serve immediately. Repeat with remaining dough and toppings.