~Alex Reichek is the taster extraordinaire who runs Chekmark Eats, the go to source for New York City restaurant reviews and recommendations. We asked Alex to help us help you find the right place to take a date in the Big Apple, because let's face it, New Yorkers are spoiled for choices- and that can be oh so overwhelming~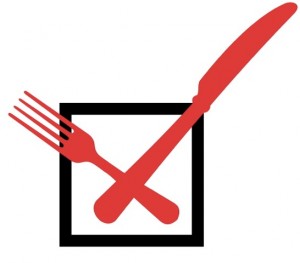 Date night. It has multiple connotations and can potentially make or break your future with that cute girl sporting those leather pants or that hot lumberjack in plaid. The moment you tell someone where you have planned the date is the moment they can start judging you and your style in drinking or food.
As a girl, my best advice is to pick a spot where you can snag two seats at the bar. This sets up an easy space for flirting, relaxing, a little joking around and access to third parties like a bartender who can break up the awkward moments. Never pick a place that's completely empty. You'll look out of the know and like it was the only place you could find on Opentable that day at 3 p.m. As a professional eater and restaurant researcher, here are Chekmark Eats' top 10 restaurants, for a first, second or even married date night:
Apizz (Lower East Side)– This red sauce Italian joint is dark with a small intimate dining room and has no windows. Choose this if it's a second or third date and you are ready for more. Share the meatballs.
Pearl & Ash (Lower East Side) – They have some of the best wine selections in the city, and the bartenders are very knowledgeable. This is where you need to sit at the bar. The light fixtures are modern and you can share some delicious small plates that your date will find extremely memorable. Chekmark Eats Review
Toro (Meatpacking) – This is a good Meatpacking spot that is not clubby. Everything is shareable, and the Spanish food makes for some great European adventure talk. It's busy with lots of movement and you can go in and out if need be. Chekmark Eats Review
Rosarito Fish Shack (Williamsburg)– Because drinking margaritas is what every girl looks forward to.  Chekmark Eats Review
The Waverly Inn (West Village) – If you REALLY want to impress your date, take them to the swanky Waverly Inn. A $66 truffle mac 'n cheese can arouse any lady or at least create a great date conversation. Chekmark Eats Review
The Spotted Pig (West Village) – I don't think there's anything hotter for either party when it comes to sharing a burger. Put your name on the list early and grab some cocktails around the corner while you wait. Top it off with their chocolate cake. Chekmark Eats Review
Anfora (West Village) – This wine bar with elevated seating owned by the fellas from L'Artusi, Dell'Anima and L'Apicio has great cocktails as well. There's no commitment to order dinner here although if you need to have a bite, you can order a cheese plate or the lamb ragu sliders.
Mother's Ruin (Nolita) – This is one of my go-to spots. Come here for your second drink of the night. You can grab a seat against the wall or sit at the bar. If you want to act like you are in the know, ask for the special Cholula tequila cocktail, and it will spice things up. Good music and good people here. If you get to a saucy point, order the french onion soup grilled cheese.
Antonioni's (Lower East Side) – It's all about the cozy red booths here. You can hear yourself talk in this restaurant, but there are still plenty of people around to make you feel like you are somewhere cool. The Italian food is also affordable and great. Chekmark Eats Review
The Dutch (SoHo) – Start the night off with oysters and end with a slice of pie? Sounds pretty sweet to me. Chekmark Eats Review