We love summer. Not just because it's summer, but because it's also rosé season.
Instead of "working" we put our nearly endless supply of rosé to use and turned the Wine Awesomeness HQ into a Cocktail Creation Center (CCC for short).
What did we emerge with? 3 fearless rosé cocktails created with ultimate refreshing-ness in mind. No sun drenched weekend would be complete without (at least) one of these three concoctions. Did we just make them up? Sure. Are they god damn delicious? Oh yeah.
1) The "VEEV en Rosé"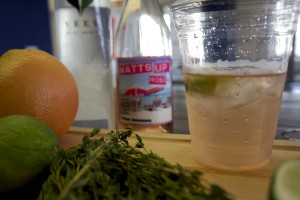 The interplay between VEEV and rosé is unexpectedly intriguing, with both offering slightly different takes on boozy fruit. The "Veev En Rosé" is fresh to the bone, slightly fizzy and the tiniest bit dry. Finally, it offers just a hint of bitterness that's offset by a generous kick of lime garnish. If it's a steady-sipping, keep coming back for more kind of cocktail you seek, look no further. You'll be singing Edith Piaf in no time.
-3 parts Rosé
-A healthy splash of club soda
-Fresh cut lime on the rim
-Garnish with lime juice and drink over ice
2) "Rojé"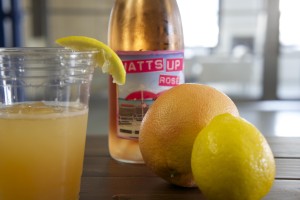 Waking up with a cold glass of fresh squeezed OJ is the best. Waking up with a cold glass of fresh "Rojé" is even best-er. The vino and OJ blend to form a sweet (but not too sweet) and citrusy base that's rounded off beautifully by the kick of fresh lemon juice. This endlessly drinkable cocktail will take your summer by storm.
-2 parts orange juice
-3 Parts Rosé
-garnish with fresh cut lemon and drink over ice
3) The "Lost Thyme Rosé Lemonade"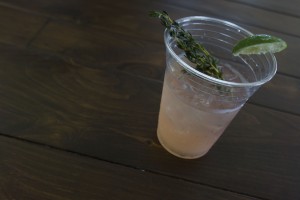 In many ways, rosé and lemonade are soulmates, but when combined can come off way too sweet and sappy. That's where thyme and lime come in. This double date of herbs, booze and fruit is absolutely delicious. It's a pretty perfect combination of sweet, sour and herbal flavors that will always give you just what you want, but never overwhelm. Perfect for sunset or dinner prep.
-3 parts rosé
-1 part lemonade
-4 sprigs of bruised thyme
-garnish with lime and drink over ice