We've all heard of Merlot, Malbec, and Sauvignon Blanc, but when was the last time you came across a Grasevina or Plavac Mali on your local wine bar's list? Probably never. These varietals are indigenous to Croatia, one of the oldest wine drinking countries in the world. Despite their extensive wine producing history, Croatian wine almost never makes it outside of the country's borders, with predominate consumption taking place internally. Therefore, when in Rome (rather, Dubrovnik, in this case) skip the familiar Cabernet and drink like a local.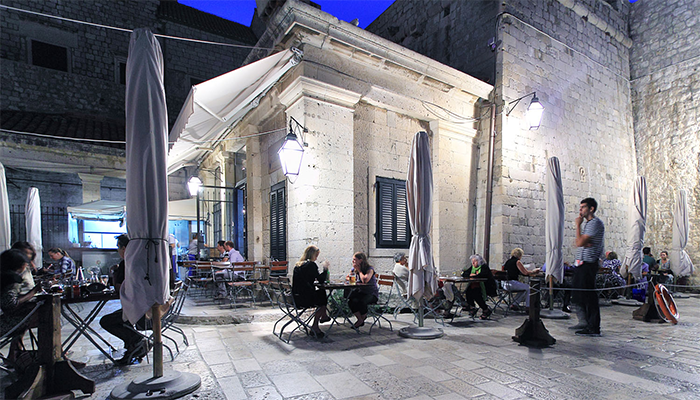 For those who generally choose white over red, Graševina is your guy. Graševina is the most widely planted varietal in all of Croatia and is thought to be indigenous to the Balkans. This white varietal can be tricky, in the sense that its taste profile is all over the spectrum. While occasionally sweet, Graševinas can be both fruit forward and juicy, as well as more on the dry and flinty side, with a strong minerality presence. For a fresh and fruity example of the grape, head to Lokanda Peskarija, found directly in the center of the Old Port. This bar/restaurant offers a plethora of outdoor seating, all situated in a square overlooking the water. Order the Graševina by the glass (for a mere 20 Kuna, which equates to less than 3 Euros per glass!) and watch the boats sail by against the mountainous, orange-roof clad backdrop. Pair with the Mussels Buzara (meaning "stew") a specifically Croatian white wine style broth with breadcrumbs, for an authentic Croatian food and wine pairing.

Plavac Malic to Croatia is what Cabernet Sauvignon is to California – in other words, it's everywhere. While relatively simple, with a taste profile similar to a basic Grenache dominate Côtes du Rhône blend, this red is a no frills option that Croatians drink like water. Take a simple wine and make it extraordinary by adding the most stunning aperitif backdrop available, found at the bar Buza. With two locations, simply named Buza 1 and Buza 2, it's still nearly impossible to snag one of the highly sought after waterfront seats, so the earlier your arrival the better chance you have of getting one! The bars' staggered levels of tables are built directly into the sides of the city's fortified walls, providing optimal views of the nearby island Lokrum and the crystalline waters of the Adriatic. However, don't arrive on an empty stomach – chips and peanuts are the only food available for purchase.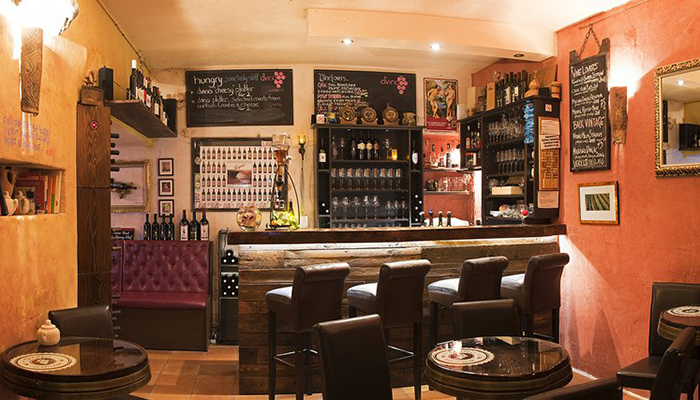 For curious drinkers who'd like to discover the above mentioned varietals (plus many, many more) head to D'Vino Wine Bar, located directly in the Old City. Just three streets in from the main entrance of the fortified walls, D'Vino sits tucked away on a quiet cobblestone side street away from the bustling souvenir shops and tourist traps of the Old City. A few scattered tables sit outside the entrance of the wine bar, while the inside is quiet and dimly lit, surrounded by bottles of wine and wooden tables, giving the establishment a true cellar feel. Over 60 wines are available by the glass, though the best way to discover multiple Croatian varietals at once is to choose from one of the various wine flight options. The wine focus at D'Vino is based on smaller wineries and family owned vineyards, fitting for the cozy ambiance of the bar. Pair your wine with one of the diverse cheese or meat plate options, served with dried fruit and olives, with a strong attention to local ingredients. International wines from Italy, France, and other European countries can be found at D'Vino as well, though settling for Cabernet in Croatia just seems a little off…

Your Hotel Room
Croatia's big claim to fame in the commercial wine industry came in the 1980's, when it was finally confirmed that Zinfandel, America's beloved grape, was not in fact a descendant of Italy's Primitivo, but rather Croatia's indigenous Crljenak Kaštelanski. Most bars and restaurants don't offer Crljenak Kaštelanski by the glass, so rather than overspend on a bottle at a restaurant, head to a local wine shop or market and use those extra dollars to grab a bottle with some age on it. Marinovic winery's 2012 Crljenak Kaštelanski is extraordinary, bursting with notes of cedar and spice. Red fruit and baking spice dance together the palate, with light, pleasurable tannin on the finish. Grab a bottle for about 75 Kuna (11 Euros) and savor in your Dubrovnik hotel room or Airbnb – even more enjoyable if there's a balcony involved.
Cover Image © Tuomas A. Lehtinen Photography