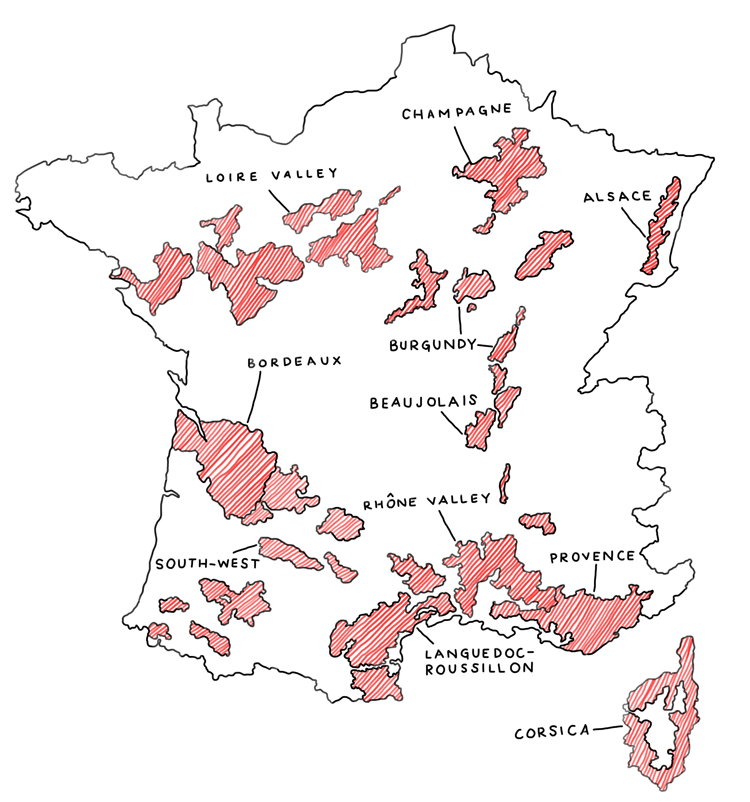 ALSACE
A wine region close to the German border, Alsace has seen both French and German sovereignty due to both World Wars. because of this, the area has a strong influence from both countries making for some tasty wine. Riesling with its sweet or dry personality and Gewürztraminer with its aromatics are the two key players in Alsace.
BEAUJOLAIS
Between the regions of Burgundy and the Rhone Valley sits Beaujolais. The region is unique in that is specializes in one grape, Gamay, and produces a style of wine, Beaujolais Nouveau, made to be drunk just six to eight weeks after the grapes are picked.
BORDEAUX
Along France's southwest coast, Bordeaux is known for its red wines made from a blend of grapes whose vines also originated in the region – Cabernet Sauvignon and Merlot. These wines are typically fruity with notable minerality and finish with mouth-puckering tannins, which allow the wines to age for years.
BURGUNDY
Burgundy demonstrates the best versions of Pinot Noir and Chardonnay as it is the birthplace of both grapes. While many may associate Burgundy with red wine, the region is also home to Chablis, also known as the place to find some of the best unoaked Chardonnay out there.
CHAMPAGNE
Everyone knows there is only one true bubbly that can be called Champagne and that's the sparkling that comes from the region itself. Within Champagne, there are five regions that make bubbly using only Pinot Noir, Pinot Meunier and Chardonnay grapes.
CORSICA
Formerly ruled by Italy, the small island off the coast of France has significant influence from both countries. The majority of the island's wines are made from Vermentino, an herbaceous white wine with hints of smokiness, and Nielluccio (or Sangiovese) which is commonly seen in the form of a rosé with a richer style in Corsica.
LANGUEDOC
In the south of France along the border of Spain, Languedoc-Roussillon predominantly produces blends. Combinations of Grenache, Syrah, Mourvérde and Carignan make for fullbodied reds while blends of Grenache Blanc and Picpoul yield tasty unoaked whites.
LOIRE VALLEY
The Loire Valley is just a few hour's drive from Paris and is praised for its diversity. It produces everything from casual everyday wine, to some extremely high-end bottles, to varieties ranging from extremely tart, to sparkling that can easily stand up against bubbly from Champagne.
PROVENCE
Rosé, rosé, rosé. That's usually the only thing people can think of when they hear Provence, and with good reason. The region located in the south of France is famed for its rosé, as 88 percent of its production is dedicated to the pink juice, and is the only region completely devoted to it (there's even a research institute for rosé there!).
RHÔNE VALLEY
The Greeks brought viticulture to this area back in the 4th century BC, so you know the wines from the area are good. The area is most notable for the red blends from Southern Rhône and Syrahs from Northern Rhône.
SOUTH WEST
The vast South West region primarily churns out white wine, but is an extra special region because it produces the "vin de pays," or country wine of France, which is a simpler version of the "vin de table" or table wine that's served across the country.