In South America you can drink wine made from vines planted over 500 years ago, sold on the cheap and by the jug. Known as Pais, or Mission Wine, these grapes were brought over and planted by Spanish monks to be used in altar services. We can only assume that the wine was as bad then as it is now.
It wasn't until the 1800's that South American winemakers began to look for new – and much better – grapes. Naturally, they turned to France and Italy. Good ol' Chardonnay is now being grown in the foothills of the Andes and Sauvignon Blanc has taken nicely to Chile's cool coast.
Roughly three-quarters of the world's Malbec (a French grape) is now grown in Argentina. Same goes for Chile's Carménère, which for years was thought to be Merlot until scientists tested the vines' DNA. These grapes have come to define the South American wine industry, and they're not even from there.
One reason for this is that South America doesn't have a ton of native grapes that are palatable – but they do have a climate to grow ones that are. Another reason is the largest tragedy in wine history: Phylloxera.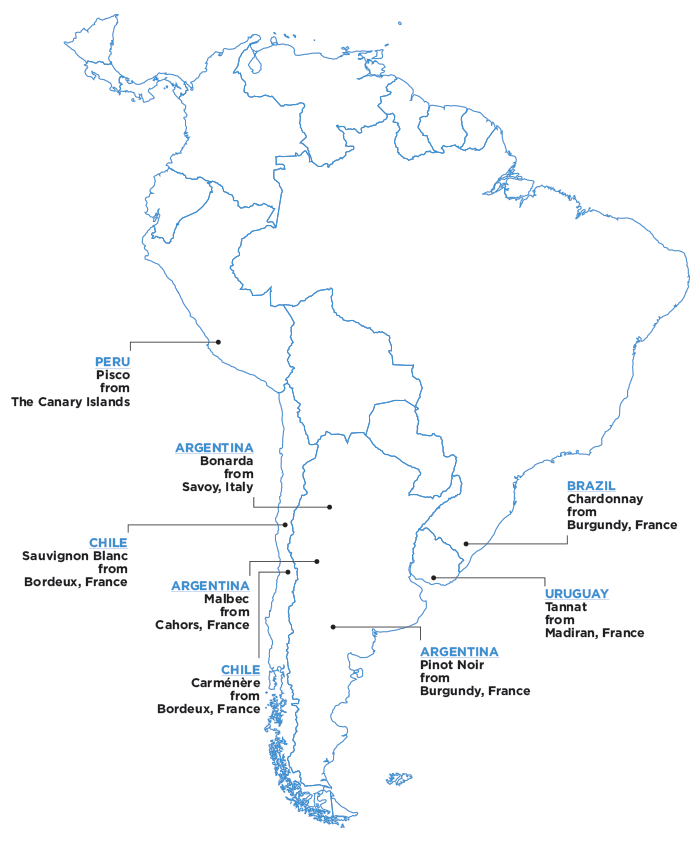 In the mid-1800's, just after European grapes began arriving in South America, Europe was hit with the Great French Wine Blight. Almost half of all French vines were destroyed by the tiny Phylloxera aphid, as well as many vineyards in other parts of the continent.
For the next few decades, the French economy and the wine world suffered. The solution, it turned out, was to graft European vines onto Phylloxera-resistant American rootstock, but it took years to fully implement this process. In the meantime, across the ocean, South American grapes flourished free from evil vine-eating pests.
Today, Argentina and Chile come in as the fifth and ninth largest contributors to the 6.8 billion gallons of wine produced worldwide every year. The numbers are certainly there – as is the quality. South American winemakers are beginning to outpace their European predecessors.