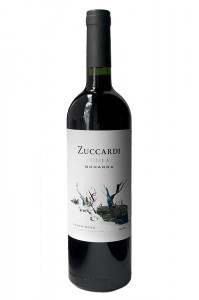 Give a warm welcome to the 2012 Zuccardi Bonarda Serie A, a deep cut of a wine made from a deep cut of a grape by the name of Bonarda. This Argentinian cult hero has lived in the shadow of Malbec for ages, which works out really well for the Argentines. It's juicy, and truly one of the food-friendliest wines out there. Without further ado: tasting notes, perfect food and musical pairings (with recipes of course) as well as the nitty gritty and the perfect time to whip it out.
The Nitty Gritty
Home: Uco Valley, Argentina
Variety: Bonarda
Vintage: 2012
Occasion: Swimming in a pool of pasta
Best Paired with: BBQ Spaghetti (yes, really)
Rock out to: Spoon- You Got Yr. Cherrybomb
The Tasting Notes
If you think Malbec is the only wine in Argentina, think again. Bonarda is an unscrupulously juicy vino that will forever change what "food-friendly" means. It's dark and brooding, but brightened by black raspberry and plum that keeps your glass and plate full. Why haven't you heard of it? The locals keep it all to themselves. It may play second fiddle to Malbec, but trust us, that's some damn good fiddle.
Nose: A chunk of blackberry and licorice baker's chocolate
Palate: A big, long sipping body with the comfort of soft tannins
The Perfect Pairing
BBQ Spaghetti, courtesy of Serious Eats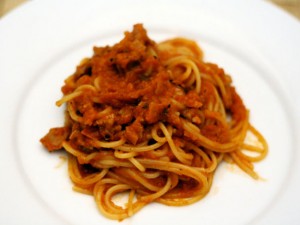 Ingredients
1/2 cup olive oil
2 large onions, diced
1 garlic clove, minced
4 ounces canned diced tomatoes
3 ounces tomato paste
1/4 cup sugar
1 tablespoon fresh oregano, chopped
1 tablespoon fresh basil, chopped
1 cup barbecue sauce
1 1/2 teaspoons kosher salt
16 ounces spaghetti
1 cup pulled pork
Steps
Bring large pot of water to a boil. Meanwhile, pour oil into heavy-bottomed 12-inch stainless steel skillet over medium-high heat. When oil shimmers, add onions and garlic. Cook until onion turns translucent, stirring often with wooden spoon, about 5 minutes.
Add diced tomatoes and tomato paste to skillet, reduce heat to medium-low, and simmer for five minutes. Add sugar, oregano, and basil. Stir well, and cook for another five minutes. Transfer sauce to a blender, and add barbecue sauce. Blend until smooth. Season with salt to taste.
Add spaghetti to boiling water and cook according to directions on box. When done, drain pasta in colander. Return pasta to empty pot and pour in barbecue sauce. Stir well, and add pork. Serve.