What's better than curling up beneath a blanket with a bowl of popcorn for a movie? Curling up beneath a blanket with a bowl of popcorn and a great bottle of wine (and an adorable puppy of the breed of your choice). Okay, so we can't hook you up with the puppy… but we can make your next movie night better by suggesting a killer set of wine and film pairings, for your viewing and tasting pleasure.
1) Easy Rider & the 2013 Fiction Red
The Film- Easy Rider
Director- Dennis Hopper
Starring- Peter Fonda, Dennis Hopper and Jack Nicholson
Released- January 1, 1969
Rotten Tomatoes Rating- 86%
The Wine- Fiction Red
Made by- Field Recordings
Vintage- 2013
Blend/Varietal- Zinfandel, Tempranillo, Mourvedre, Grenache, Syrah, Touriga Nacional blend
Palate- blueberry pie, suede couches, ham paninis and unlit menthol cigarettes
Easy Rider is a seminal and super-iconic flick from 1969 that is generally considered to have captured the heart & soul of the American counterculture movement. Both the film's approach and its content changed Hollywood and memorialized a generation forever. The plot centers around two freewheeling, drug dealing hippies who go out in search of America and spiritual satisfaction on two correspondingly awesome motorcycles. Fun fact: all the scenes in which drugs were used were shot with real drugs. This ain't your grandmama's kind of flick.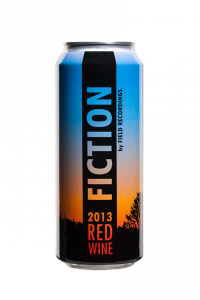 We can't encourage you to take substances stronger than wine to accompany this film, but in lieu of something more uh… psychedelic, we do recommend the 2013 Fiction Red. This convention-flaunting juice is more or less the Easy Rider of the wine world.
To start, it's one of the first (actually good tasting) wines to be canned. It's made by young winemakers in a young region (Cali) that's been turning heads. The success of these wines is all in spite of the fact that these winemakers are experimenting and breaking rules. This juice is a creative blend of six varieties. Its flavors and packaging all suggest outdoor parties, an alternative lifestyle, indifference to convention and pretension, high mobility and a new approach to wine. It ain't your grandmama's wine, neither.
If you want your revolution on-screen and in a can, this is the way to go.
2) Charles Bradley: Soul of America & Balance Sparkling Boldly Brut

The Film- Charles Bradley: Soul of America
Director- Poull Brien
Starring- Charles Bradley
Released- March 9, 2012
Rotten Tomatoes Audience Score- 94%
The Wine- Balance Sparkling Boldly Brut
Made by- Balance Wines
Blend/Varietal- Sauvignon Blanc
Palate- Variety of tropical fruits that linger and mingle, with green fig making its presence known
Nose- Dry as a cloudless sky and has a super mouth feel, a texture and taste tag team.
This is the documentary that put the spotlight on Charles "The Screaming Eagle of Soul" Bradley's insanely uplifting (100% true) story of success. If you don't know about Charles yet, put this at the top of your to-do list. A WA Juice Jams favorite, Bradley was an aspiring musician who could never escape obscurity, poverty and the hardest of times- until the age of 62.
This film attempts to answer Bradley's own question "why is it so hard to make it in America?" by looking in depth at the extreme tragedy and the eventual triumph of his life. His story is a no bullsh*t testament to what passion, optimism, love and amazing soul music can accomplish in the face of all the odds.
This film will take you through the lowest of lows but leave you on the highest of highs. It's a doc that is exceedingly earnest and caring. You'll fall in love with Charles and his incredible music (the album featured in this film is solid gold and was featured in Rolling Stones' Top 50 Records of 2011).
Why champagne?? This isn't just a film, it's a celebration of a deserved dream come true, and celebrations always call for champagne. Let the bubbly tickle your tongue and the story and songs of Charles Bradley warm your heart, truly.
(Charles Bradley: Soul of America is available for instant streaming on Netflix.) 
3) Mud & 2012 No. 1 Willow Way
The Film- Mud
Director- Jeff Nichols
Starring- Matthew McConaughey
Released- May 10, 2013
Rotten Tomatoes Rating- 98%
The Wine- 2012 No. 1 Willow Way
Made by- Willow Way
Blend/Varietal- Shiraz/Mourvedre
Nose- A fistful of spices and deep red cherries over a thin wisp of wood smoke.
Palate- Sumptuous and juicy, with some silk from the tannins and a bold fruit finish.
If you're one of the millions currently wrapped up in the McConaissance, look no further. Mud is the ultimate cure for Matthew McConaughey fever. This best-kept-secret of a film centers around two country boys- Ellis and Neckbone -from the Mississippi River banks of Arkansas (real backwoods USA) who discover a mysterious man living on a boat, in a tree, on an island.
His name is 'Mud' and as his relationship with Ellis and Neckbone develops, his dangerous past, his motives and the absurdity of his current situation all come to light- entangling the boys in his strange personality, steadfast ideals and his risky goals. It's a coming-of-age story with a very different (far from corny) flavor and a brilliant character (protagonist or antagonist?) in Mud.
Think Stand by Me with a healthy dose of Beasts of the Southern Wild. It's all made sublime by McConaughey's Oscar-worthy performance, one reminiscent of his brilliant display as Rustin Cohle in the critically acclaimed series True Detective.
To match this absolute gem of a movie is an absolute gem of a wine: the 2012 No. 1 Willow Way Shiraz/Mourvedre. This wine is a lot like Mud (the film!) It's all about tenderness in the context of something spicier, grittier and full of attitude. There is no shortage of strength and boldness to experience… but ultimately something both sympathetic and sweet emerges.
(Mud is available for instant streaming on Netflix.)
4) In A World & 2013 Early Mountain Vineyards Rosé 
The Film- In a World
Director- Lake Bell
Starring- Lake Bell, Demetri Martin, Rob Cordry
Released- August 9, 2013
Rotten Tomatoes Rating- 92%
The Wine- 2013 Early Mountain Rosé
Made by- Early Mountain Vineyards
Blend/Varietal- Merlot Rosé
Nose- Youthful strawberries, ripe melon, and fresh fennel
Palate- Elegant! Acid meets a very slight sweetness.

This film is the brainchild of the magnificent comedienne Lake Bell, who wrote, directed and starred in the whole damn thing. It won "Best Screenplay Award" at Sundance, and for good reason. She's complemented by comedians like Demetri Martin and Rob Cordry, who both help carry this film to greatness. In a World is a playful but surprisingly substantial story about an insecure and underachieving voiceover artist who battles her father, his rival and a completely sexist industry to try and land a coveted job despite being a nobody and a woman.
Make no mistake, this is a comedy, and a great one: it's a hilarious and quirky romp through and through. But, there's also a perfect balance between the frivolity and ridiculousness of quibbles between ego-maniacal voice professionals and something more compelling: a real story about three-dimensional people that you'll start to care about more than any other comic character you've come across in the past few years. It'll make you laugh without a doubt, but has plenty more to offer than jokes. Lake Bell's directorial debut will surprise you, much much more than pleasantly.
The perfect "watching wine" would have to be the 2013 Early Mountain Rosé. Just like In a World, this rosé is light and refreshing without sacrificing substance, it's made by an up-and-comer (down in ole Virginny!) and is premium fuel for good times. Just be careful not to laugh with a mouthful of it… rosé + nasal canals is never pleasant, no matter how good the wine.
(In a World is available for instant streaming on Netflix.)
5) The Triplets of Belleville & the 2012 Lopez de Haro Tempranillo 
The Film- The Triplets of Belleville
Director- Sylvain Chomet
Released- November 26, 2003
Rotten Tomatoes Rating- 94%
The Wine- 2012 Lopez de Haro Tempranillo
Made by- Lopez de Haro
Blend/Varietal- Tempranillo
Nose- Bright red cherry, red currant and pomegranate; dill, vanilla, dried roses, sexiness.
Palate- Medium-bodied, silky with no shortage of sumptuousness

There are probably only a few ways to describe this brilliantly singular animated film that can do it any true justice, and I'm not familiar with any of them. The Triplets of Belleville is (at least on the surface) about an elderly French woman named Mme. Souza who crosses the Atlantic ocean with her dog Bruno to retrieve her kidnapped grandson- a biker ironically named Champion. She arrives in the multilingual, dystopic and incredibly imaginative Paris/New York mash up city called (also ironically) Belleville and takes on a bizarre form of mafia to try and retrieve him.
This is far from your average animated film, it's certainly not for kids (though they'd enjoy it) and is nothing like any "cartoon" you've ever seen. It's a trip through an incredibly odd, often grotesque and endlessly engaging universe that's fantastical but also quite a bit like ours in some important ways. The animation, characters and overall aesthetic that Sylvain Chomet manages to put together is truly an experience, one you'd be really bummed to miss out on.
If there were any vintages from the fictitious city of Belleville, I'd certainly recommend them. Alas, I can recommend the 2012 Lopez de Haro Tempranillo, an old world wine to accompany on your journey into an animated world that's both strange and new, and familiar all at once. This sumptuous red will be a valuable asset as you cross the ocean with Mme. Souza and Bruno, I promise.
(Triplets of Belleville is available for instant streaming on Netflix.)
Bottoms up! Lights down! It's movie time!