California cuisine is all about fusing diverse, fresh and local ingredients… be they from land or sea or both. These tacos are a deliciously perfect example of how cookin' goes down out on the west coast. If you didn't pair this dish with the Sonoma Oaks 2013 Pinot Gris you got in your Box of Awesomeness, you'd be making a big mistake, so do it!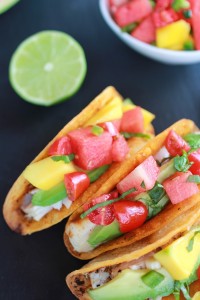 Ingredients
4 tablespoons fresh lime juice, divided
3 tablespoons tequila
3 tablespoons roughly chopped fresh cilantro, divided
1 teaspoon finely chopped garlic
1 teaspoon ground cumin
1 lb mahimahi
3 tablespoons rice wine vinegar
1 teaspoon canola oil
2 3/4 teaspoons honey, divided
1 1/2 teaspoons kosher salt, divided
1/2 teaspoon freshly ground black pepper, divided
3 cups thinly sliced red cabbage
3/4 cup reduced-fat sour cream
3 tablespoons 2 percent milk
1 1/2 teaspoons finely grated lime zest
8 corn tortillas (6 inches each)
1/2 firm-ripe avocado, thinly sliced
2 limes, quartered
Preparation
In a resealable plastic bag, combine 3 tablespoons lime juice, tequila, 1 tablespoons cilantro, garlic and cumin.
Add fish, seal bag and turn to coat; refrigerate, turning once, 1 hour.
In a bowl, combine vinegar, oil, 2 teaspoons honey, 1/4 teaspoon salt and 1/4 teaspoon pepper. Add cabbage; toss well.
In another bowl, combine sour cream, milk, zest, remaining 1 tbsp juice, remaining 3/4 teaspoon honey and 1/2 teaspoon salt.
Heat grill. Remove fish from marinade; season with remaining 1/2 teaspoon salt and remaining 1/4 teaspoon pepper.
Grill, turning once, until just cooked through and lightly charred, 4 minutes per side.
Transfer to a cutting board; coarsely chop. Stir remaining 2 tablespoons cilantro into slaw. Grill tortillas, turning once, 30 seconds per side. To assemble, spoon 1 tablespoon sour cream mixture in center of each tortilla. Divide fish, slaw and avocado among tortillas. Garnish with lime wedges.