Winemaker Sebastian Zuccardi sits at a table in midtown Manhattan and eats breakfast like all the other hotel guests. Yet, he stands out. Unlike his fellow diners, he doesn't look tired, preoccupied or fed up with another New York winter.
Instead, his eyes are lit up, he's talking a mile a minute and his hands are so active in their gesticulations that he nearly knocks over a cup of coffee. He doesn't notice, because he's waxing poetic. The subject? Wine. In particular, he's talking about a grape that is near and dear to his heart: Bonarda.
These days, when drinkers think of Sebastian's native Argentina, they immediately think of Malbec. The Argentinian wine industry has been riding "the dark horse grape" into the hearts of winos everywhere. But, as Sebastian stresses over the course of the conversation, there's a lot more to Argentina than Malbec. That's why he started to shift his focus away from Argentina's "hit" grape and began to make wines with the oft-overlooked Bonarda.
Like Malbec, Bonarda is a grape of French origin that arrived in Argentina with waves of European immigrants. Overall, both grapes adapted beautifully to their new South American home. But, as Sebastian tells us, Bonarda's vines actually grow so rapidly that winemakers struggle to tend to them. Simply put, Bonarda's a bit more high maintenance than its happy-go-lucky counterpart.
So, when Argentina's first winemakers started planting, they "chose" Malbec. This had less to do with taste and more to do with keeping labor low. Sebastian is one of several Argentinian winemakers who have realized that Argentina's little known "second place grape" produces wines that are way worth the extra work.
"Bonarda is a wine for food." Sebastian says, then pauses. "No, Bonarda is a wine for pasta." He smiles. But beyond that, "Bonarda gives an opportunity to develop regions where Malbec is not so interesting. Also, it makes wines that are juicy, and I love juicy wines." An even bigger smile. "When I started with this project, the idea was to show the potential of the Bonarda in Argentina."
That's exactly what he's doing… the 7,000-12,000 bottles of Bonarda he produces annually are cult wines in Argentina that hardly have a chance to sit on the shelf.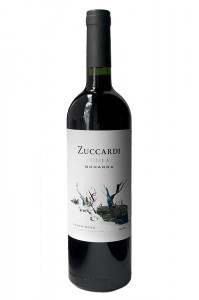 Like the Zuccardi family vineyard (Sebastian is a third generation winemaker) the Bonarda grapes in the 2012 Zuccardi Bonarda Serie A were planted by his grandfather. While Argentine winemakers scramble to produce Pinot Noir and wines that are big in the marketplace but not as well suited to the region, Zuccardi and his brothers and sisters are making the wines that have a place in their hearts and histories.
In the hotel lobby Sebastian waits by his bags, eagerly eyeing the street. He's on the way to the airport after a tour of Sweden and New York City. "The travel is amazing" he says, "but I can't wait to get back to Argentina." Why? Because the harvest is starting, and the Zuccardi family will begin to pick those grapes their grandfather planted. Those just happen to be the grapes that will become some of the best new wines you've probably never heard of, until now.