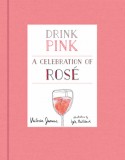 The following is an excerpt from Victoria James' new book, Drink Pink: A Celebration of Rosé, a guide to rosé's versatility and why you should drink it all year long!
---
Not too long ago, a guest at the restaurant where I work as the sommelier was fervently flipping through the pages of the wine list. When I offered to assist him, he sighed in relief. A very thick French accent accompanied his words, "Last year I had the most amazing rosé here. I could not find it anywhere in Europe. It is from Clear Lake. Do you still have it?" He was referring to an Arnot Roberts Touriga Nacional Rosé from California that we luckily had a bottle or two of left. I couldn't believe this gentleman was so excited to taste an American rosé again. But then, again, why not? It was delicious.
Some argue that the rosé craze in the United States is just a phase. But many experts disagree. They see this not as a trend but rather as the introduction of a new style. Kermit Lynch, one of the top importers of French and Italian wine in the United States, adds, "I think now rosé has its place, just like white and red and sparkling." Americans are slowly learning more about wine and gaining a deeper appreciation. Rosé is simply a result of this education.
In the early 2000s, rosé's popularity started to build. Resorts and beach destinations around the United States started stocking pink French wine. The Francofascination grew, and many places like André Balazs' Sunset Beach property on Shelter Island in New York starting sporting pétanque courts. Keen on living the authentic southern French lifestyle, rosé starting flowing endlessly. Celebrities like Drew Barrymore and Angelina Jolie along with Brad Pitt started making rosé.
Rosé was suddenly mainstream. Social media turned the pink beverage into a superstar. Instagram stars like Josh Ostrovsky ("The Fat Jew") claimed, "Rosé is like puppies, if you hate it you are an absolute monster." He went on to collaborate on a product called "White Girl Rosé," a California Sauvignon Blanc and Zinfandel blend. Hundreds of thousands of bottles have been sold.
In France, clever collaborations also have taken place. Jeremy Seysses of the highly acclaimed Domaine Dujac and Aubert de Villaine of the outstanding Domaine de la Romanée-Conti, where some of the most expensive wines in the world are made, co-founded Domaine Triennes. Located in the Var, not too far from the Jolie-Pitt owned Château Miraval, Seysses and de Villaine started producing tasty rosés.
Sommeliers from all over the United States rushed to include the wine on their lists. In the summer of 2014, almost every restaurant I went to was pouring it by the glass.
Like the baguette or the beret, we have adopted rosé into American culture. The charming nature of the beverage is hard to deny. As domestic and international examples have drastically improved in quality, it is no longer considered a guilty pleasure. Men have looked past the pink coloring and embraced "brosé" remarks. Rosé is exactly what the wine world needed, a unpretentious but delicious option.
So is the rosé trend fleeting or forever? Sommelier Rajat Parr assures us, "Oh no, rosé, it's here to stay."