Red wine with meat. White wine with fish. Right?
Not so fast.
The key principle in pairing any wine with meat is understanding the dominant flavors that dress up that beautiful slab of protein.
Marinades, rubs, spices, citrus and vinegar have more to do with a successful wine pairing than anything else. Pair with these flavors in mind and you can't go wrong.
Beef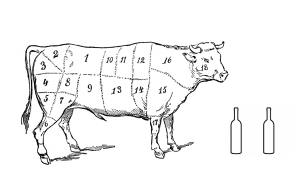 A straight up burger? That's all about juicy, beefy, salt & peppery goodness. Enter juicy red wines… big tannins not necessary. Gamay, Pinot Noir, Grenache, Tempranillo will all do the trick real nice.
Chinese crispy beef with broccoli? In this case sesame oil, garlic, ginger, soy & oyster sauce are more important  than the beef itself. An off-dry, luscious, full-fruited blast of German Riesling will set this dish straight.
Pork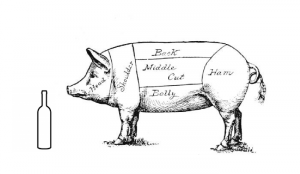 Hot dog with sauerkraut and onions? Classic. Look to Gewurztraminer to stand up to the strong salty flavors of this pig part hall of famer. From Alsace to Monterey, any Gewurz' will do.
Bo Ssam! The legendary slow cooked, sugar and salt encrusted Korean pork shoulder feast can go pink or red with ease. Rosé plays nicely with sides like kimchi (and pickled things). South African Pinotage and Australian Shiraz have enough dark fruity punch to soak up all that meat and spice.
Chicken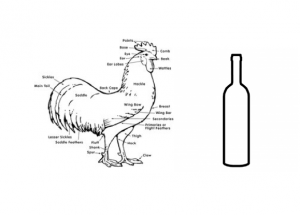 Grilled chicken thighs, skin on and bone in. The darkest meat of the bird is where it's at. Salt the skin, cook it slow, and it's like eating a meat filled potato chip sandwich. Lighter bodied red wines that like a little chill (Croatian Slovenian, French and Italian) are no brainers with this classic griller.
Jerked chicken! To put out the heat you need somethin' sweet, mon. Riesling and Gewurztraminer won't make your blood clot when the mouth gets hot. Rosé will do the trick, too. If you wanna get freaky- chill down some sweet bubbly Muscat.
Lamb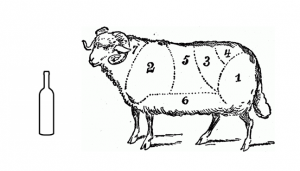 Ahh yeahh, lamb chops. These provide the foundation for one of the greatest Cabernet/Bordeaux combinations of all time. Think of that tannic red wine as espresso and the protein-rich meat as cream. Add them together and it's smoooooth sailing.