— Andrew Villone runs mouthwatering slow-food and wine focused Savor the Experience Tours throughout Eastern Europe. He has spent 9 years uncovering some of the region's best kept secrets, and has shared five of his favorite off the beaten path spots from his Blue Danube Dalmatia and Savor Adriatic tours with Wine Awesomeness. Savor them!–
Vis Island

Hvar island gets the press, Dubrovnik gets the cruise shippers and Plitvice park gets its gorgeous photos all over the tourist brochures while Vis just gets the locals and those foreign tourists in the know.
Vis is furthest island away from the Croatian mainland and contains a whopping two towns plus an assortment of tiny villages and zero mass tourism monstrosities. And of course, we like it this way. So if you want to scuba dive for old wrecks, get blasted on terrific Plavac Mali wine in a underground cellar that use to be a military bunker, visit vineyards that once were runways for Allied B-24 bombers, nosh on some seriously great lamb, follow in comrade Tito's footsteps, sail the Adriatic in a traditional wooden sailboat that fishermen once got their daily catch in or just find your own secluded cove and chill for the day, well, this is the island for you.
 Peljesac Peninsula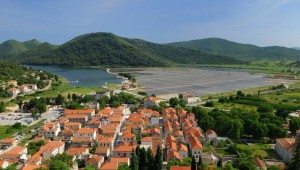 Need to get away from the hordes of tourists invading Dubrovnik?
Just an hour north is arguably the most scenic spot in all of Dalmatia, the Peljesac peninsula. Home to great oysters and even better wines. Stop by Milos winery and learn about the Milos family history, grafting and wine growing on Peljesac's steep and rocky terroir. Visit their prized vineyards stretching from Prapratno cove and overlooking the village of Ponikve.
Nowhere in Europe is there such a concentration of coastal vineyards. Lots of great Plavac Mali to taste here too. Then as you head out, make sure stop at the walled town of Ston, one of the wealthiest towns in medieval times due to the salt (aka white gold).
 Trogir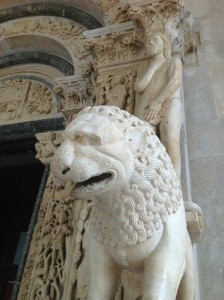 Some people get fixated on Split's old Roman Diocletian's Palace or the romance and allure of Dubrovnik and completely forget about Trogir. Their loss. This wonderfully preserved town sits on a small island connected to the mainland by a short bridge. Trogir is best explored with no map, just lose yourself amongst the maze of narrow cobblestone streets, tiny churches and courtyards.
There's really only two must-do things in Trogir: relax and visit the 11th century St. Lawrence church with its magnificent stone carved portal. Treating yourself to a great dinner at Calebotta, enjoying a gelato while admiring all the expensive yachts tied up along the promenade or blissfully meditating to the beautiful a cappella music (known in Croatia as 'klapa') performed every morning are other good bets that require little planning on your end.
 Krka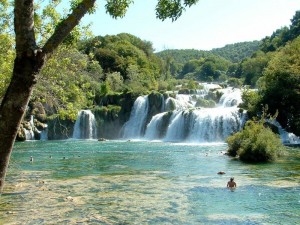 In need of a nature getaway? Krka national park has cascading waterfalls, easy to walk walking paths, lush scenery, boat rides to islands with tiny monasteries on them, even a spot to get some swimming in. And it's all easily accessible from Central Dalmatia in an hour or less.
A stone's throw away from the park is the idyllic small port town of Skradin and nearby Bibich winery. Made famous in Anthony Bourdain's No Reservation Croatia episode as he went typically ape-shit crazy over their wines and food. And hey, who can blame him. As Bourdain put it himself, if you haven't been here,  you're a fucking idiot. Don't be an idiot.
 Cafe Buža, Dubrovnik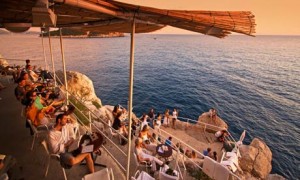 Buza Bar is one hole in the wall you don't want to miss. You may come across a few signs in the old town that say "cold drinks with the most beautiful views." Just follow the arrow to this cafe/bar on the outside of Dubrovnik's 80 feet high walls.
Drinks are certainly cool (and pricier than other spots) and the views of the Adriatic, swimmers, sail boats and Lokrum island are worth it!