There was a thin layer of clouds that followed me, even as I left San Francisco. Crossing over the bay and onto the quiet island of Alameda, I wondered just how much excitement I'd be able to muster about tasting vodka on this grey morning.
But then I met Caley Shoemaker. As the head distiller for Hangar 1, she pretty much gets excited about spirits from the moment she wakes up. She's one of the only women in the country with her title, and she's creating a buzz in the world of vodka. Caley came to Hangar 1 from a whisky distillery in Colorado, and she's been leading a charge of sustainable, local, craft distilling ever since.
People should enjoy sipping vodka, Caley told me as we walked around in hard hats in the very-much-under-construction distillery. The Alameda tasting room, which is part of the Hangar 1 distillery, is slated to open in September. Back-end tours, food trucks and a cocktail program are just some of the features that will make this tasting experience worth the ferry ride to the little island of Alameda.
Caley is the lead on all the vodka making that goes on at Hangar 1, including the small-batch production. That seems like the most fun. When I visited, she was at the beginning stages of creating a test batch of pink peppercorn-distilled vodka. Some tests turn out exceptional, while others (like the tamarind vodka, apparently)—not so much. This is the fun of a job like hers, though.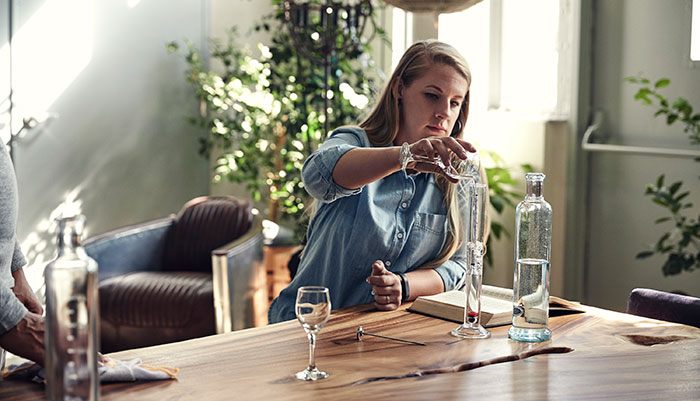 The coolest part of her job is that she has 100 percent creative freedom, and she's able to bring her own personality into her distilling. A self-proclaimed spirits nerd, Caley tries to always make spirits that bartenders can get excited about. She often finds herself collaborating with her mixologist friends at the distillery as they taste the vodkas and create new, interesting cocktails.
She's also able to bring her values to the trade. That means the vodkas she distills are as environmentally sustainable as she can make them. Case in point: This month's test batch of pink peppercorns came from a farmer at the San Francisco Ferry Building farmer's market, just a short ferry ride away from the distillery.
Feeling a Little Foggy
Another creative baby of Caley's has turned heads all around the Bay Area and beyond for its serious commitment to tapping into local, environmentally friendly ingredients. Fog Point is the name of the newest release from Hangar 1, and it's a truly unique vodka.
If you've ever been caught in the thick damp that is San Francisco fog, or if you've ever gone wine tasting at any one of the countless nearby wineries, you might begin to understand the complexity of this new vodka. Fog Point is the love child of the San Francisco fog (which is, weirdly, named Carl) and a biodynamic California-grown white wine that's made in nearby Davenport. These two key ingredients are gentle on the earth, and that's intentional.
Le Cigar Blanc is the biodynamic white wine blend that goes into the new Hangar 1 vodka, from Bonny Doon, a winery about an hour and a half south of San Francisco. Biodynamic wine is an organic winemaking technique that incorporates more earth-friendly practices like the use of herbal pesticides and composting.
Carl is the ubiquitous, soupy fog that punishes anyone that's ever been to San Francisco in June. Carl is quite literally caught by fog-catching nets, which Hangar 1 and a water sustainability-focused organization called FogQuest, placed in a couple particularly foggy spots throughout the city. The condensed fog becomes water, carrying all the richness of the Pacific coast, which is collected. The wine is distilled and then cut with fog-caught water to make the most Bay-Area-esque beverage you've ever tried. Not sure if it gets any more local than this. And that's about the extent to which Fog Point's ingredients impact the environment, which played a significant role in Caley's production method.
Sip It, Don't Shoot It
When we sat down to taste the Fog Point (it was 11 o'clock in the morning), I was skeptical. Though Caley's enthusiasm for spirits and distilling was definitely contagious and the morning clouds were starting to burn away to a bright and cheery day, I knew it would take a lot for me to be impressed. It's not that I'm such an expert. In fact, it's the opposite. For me, vodka was simply an ingredient in hangover-free (uh-huh) soda cocktails at weddings and handle-made Kookaburra juice from my college days. It's just that I've never tasted a vodka that made me think, yum, this is so complex—I think I'll sip this slowly and responsibly.
"People think vodka is just something you put in a cocktail to add alcohol to it," she said. I nervous laughed in an attempt to exude confidence. But the truth was, before today, I was one of those people.
Caley must have sensed that I was a vodka newb, so she took me through the tasting very slowly. The worst thing you can do to vodka is chill it. Chilled vodka loses its flavor, and where's the fun in that? The second worst thing you can do to vodka, she told me, is take shots of it. To get the full experience, the key is to sip the vodka (or any spirit) at room temperature.
And, you will have to sip twice before you'll be able to discern any flavors. Twice, because the first sip is going to jolt your taste buds awake—if you're not used to drinking spirits before noon on a Tuesday, this part makes sense. The second sip is when the flavors can really open up because your mouth is prepared to taste them. Only once your taste buds mellow to the surprise of the proof can you really enjoy a vodka for its complexity. After you swallow, the trick is to exhale purposefully, and you'll be rewarded with the full robust flavor on the finish.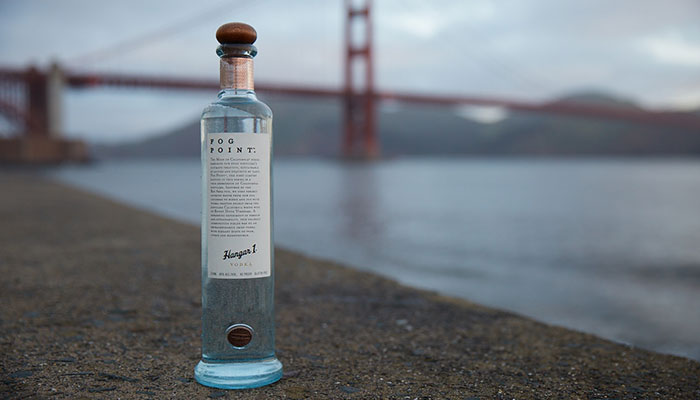 In Fog Point, I could taste hints of the white wine grapes and maybe even a crisp dewiness. The flavors were subtle but tantalizing. As a resident of the foggy part of San Francisco and a huge fan of California white wines, I imagined I was tasting the spirit version of myself. This vodka was not only sippable, but it was packed with complex flavors.
Vodka is typically about 95 percent alcohol and can be distilled from anything (yes, basically anything you can eat or drink can be distilled to make vodka – corn, potatoes, peppercorns, wine). The alcohol itself has no flavor, which means that the flavor of this spirit is crammed into that 5 percent. Distillers have to play within that small space to get the flavor they want. That's a tall order for any distiller, but for Caley Shoemaker that's what makes it so fun and interesting.
If her job is to change how people think about vodka, she's crushing it.