While we have always been fans of the tossing-in-a-blender method when it comes to aerating our wine, each of these decanters really have something going for them. From an automatic spout to hand-blown beauties, these are the craziest decanters on the internet.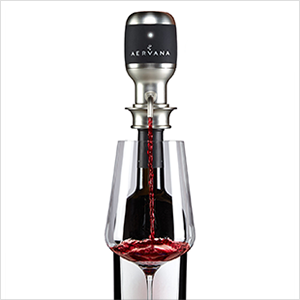 Have you ever thought to yourself, "Man, I wish I didn't have to go through the effort of LIFTING this bottle in order to pour myself another glass of this delicious wine"? Well fret no more because Aervana has made it that much easier to keep on imbibing with minimal effort. This electric tap not only pours wine with the push of a button but also aerates it in the process – meaning you don't even really have to swirl the wine around in your glass to get more air on the juice. Just push, pour and sip away.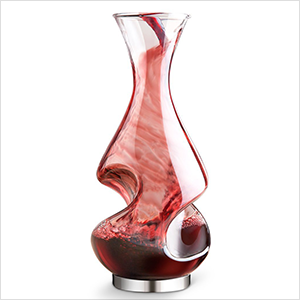 This decanter is nothing short of groovy. With a sassy little twist in a the middle it looks a bit like it's dancing as you swirl your wine around in it. Plus, the grooves on all sides make it all the easier to hold onto, so there's less risk of a spilled bottle of wine as the night goes on.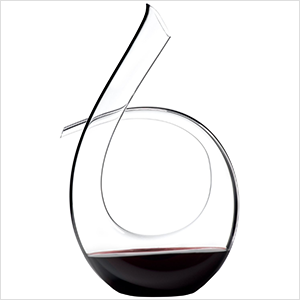 Just imagine it. Your boss/parents/in-laws are over for dinner. They walk into the dining room, sit down and are presented with this super sophisticated, more-like-a-piece-of-abstract-art decanter of wine. Boom. You just won the dinner party game.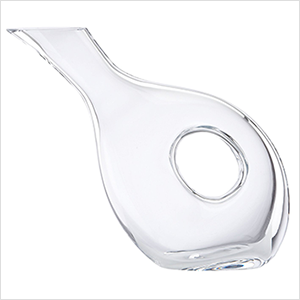 Not too unlike your traditional decanter – but with a a little extra flare. This piece of glassware says chic yet funky, with a fun little hole in the center which is both fun to try and toss pieces of dinner rolls through as well as a nice little handle.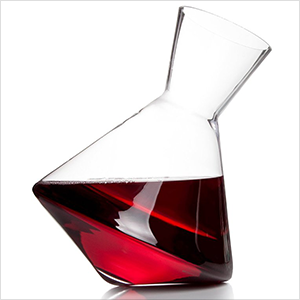 Guys. This one. This one balances on its side and looks so completely awesome. And its balancing act actually serves a real purpose in that it makes it easier to aerate the wine by swirling this decanter around on its side. How fun is that?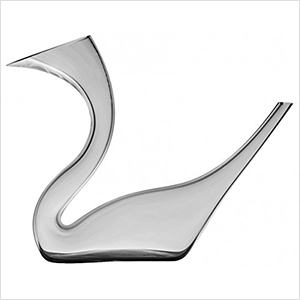 Like your typical swan ice sculpture, except without the mess of melting water. Plus the added pizzaz of wine in the mix makes this decanter an all around favorite. Place it in the middle of your table next to that whole turkey to get a full-on poultry vibe going.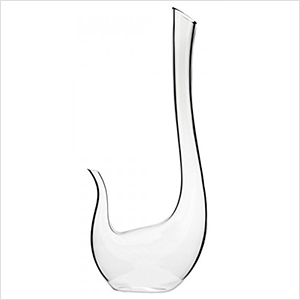 Possibly the most ostentatious of the bunch, this hand blown decanter rises above the rest, and will most likely require you to be fully standing in order to pour from it. But at the very least it will get a few oohs and aahs from the crowd.
thebacklabel occasionally features products that we think are totally awesome. We do sometimes partner with these brands in order to make our coverage possible and may also receive a share of your purchases.